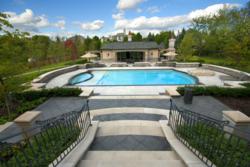 It is an honour to be presented these awards from MPG
Toronto, ON (PRWEB) May 05, 2011
Gib-San Pools was a top recipient in the annual Awards of Excellence competition held by the Master Pools Guild and presented at their Spring Conference in San Diego, California. Gib-San received twenty-three gold, silver, and bronze awards in categories ranging from traditional, freeform, and geometric pool designs to interior pool and renovation pool categories.
Each year Gib-San benchmarks its creative work against its peers by entering the Awards of Excellence competition. The Master Pools Guild is a network of elite custom pool builders from around the world.
Participating in such competitions is one practice that Gib-San engages in to ensure the maintenance of its leadership role in pool design and building. "We're very proud of the hard work Gib-San has done to deliver our clients' dreams and it is an honour to be presented these awards from an organization made up of such high-quality organizations" said Ed Gibbs, the President of Gib-San Pools & Landscape Creations. The company is a leader in helping design personal private resorts in your own backyard and creating remarkable waterfront properties. To go along with the numerous awards received this year from the Master Pools Guild, the company was also named Top Pool Company for the 11th year in a row in Etobicoke. For pictures of the award-winning pools, go to http://www.gibsanpools.com/photogallery_expose.php?category=featuredpool&album=23. For more about the Masters Pool Guild, visit http://www.masterpoolsguild.com/about.asp.
ABOUT GIBSAN
Gib-San Pools has been creating backyard resorts for families for over 45 years. In addition to building throughout the Greater Toronto Area, Gib-San is also experienced in the design and build of estate pools in distant locations such as the Caribbean, Europe and across Canada. Gib-san knows how to make designing your backyard resort easy by providing one source – from design to landscaping. Even after the build, Gib-San is here to support you with Valet maintenance programs for those wanting full service and retail support for those wishing to maintain their pools themselves. Gib-San will meet your family lifestyle needs by making your backyard resort a reality.
ABOUT MASTERS POOL GUILD
The Masters Pool Guild has been networking elite custom pool builders globally since 1962. Guild members worked together to build and service some of the most beautiful pools and spas in the world – sharing construction techniques and technology of both equipment and water chemistry. Their yearly awards recognize their finest work.
###