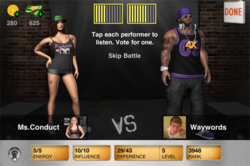 Toronto, Ontario (PRWEB) May 04, 2011
Stagename, a pioneer in mobile social gaming, has launched Rap Rivals™, the first role-playing music game for iPhone, iPad, and iPod Touch dedicated to the world of Hip Hop. Rap Rivals enables players to team up with artists and producers to create original music, and then battle other players in a quest for fame and fortune.
"Rap Rivals is a groundbreaking platform to connect like-minded music consumers with the artists and brands that want to engage them." said Josh Barkin, CEO and founder of Stagename. "No rapping or music experience is required. We've created easy-to-use music making tools that lets anyone pick up the game and sound like a pro."
In Rap Rivals, players take on the role of an up-and-coming Rap Star battling against others trying to make a name for themselves in the music business. Players create a stage name and start off in a virtual studio, mixing beats and recording vocals. For those who can't sing or rap, they can instantly tune their voice using a range of professional studio effects, or can use pre-recorded professional vocal tracks. Players then hit the stage with their original sound to win battles against other players. Since Hip Hop culture is all about style, players can customize their look in the Gear Shop with thousands of combinations using virtual currency they earn winning battles. Players can also unlock achievements that their character can wear on stage for bragging rights. To win a battle, players need to earn votes from the Rap Rivals community. Rap Rivals makes it easy for players to connect and discover each other in-game, or by connecting the game to Facebook, or Twitter.
Rap Rivals allows players to:

Mix 1000's of beats and vocal tracks, or record vocals using 10 professional studio effects
Share music creations on Twitter, Facebook, and by Email
Win battles to collect cash and gain experience and level up to earn respect
Take down real opponents in 3 different challenge modes
Hang out in the Lounge to interact and buzz around music creations
Customize a character with 1000's of combinations in the Gear Shop
Climb the charts and unlock achievements to wear on stage during battles
Experience Rap Rivals:
Download Rap Rivals for FREE from the App Store:
Connect with Rap Rivals on Facebook:
http://www.facebook.com/stagename

Tweet with Rap Rivals on Twitter:
Watch the Rap Rivals game trailer on YouTube:
http://www.youtube.com/watch?v=tV680WO6Afs
About Stagename:
Stagename Inc. is a mobile social gaming company. The company develops lifestyle games for music-oriented consumers. It also extends a social gaming platform to leading mobile entertainment brands including Virgin Mobile USA who uses Stagename to reward subscribers with free airtime for creating and sharing content. Learn more about Stagename and follow us to stay connected at http://www.stagename.com
Rap Rivals™ and Stagename™ are trademarks of Stagename Inc.
Apple Inc. AppStore is a service mark of Apple Inc.
###