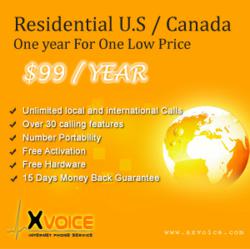 $99/year plan is just what every phone user has always wanted from a bill.
(PRWEB) May 16, 2011
Phone service is an essential element of every home and business. Businesses as well as residential phone users can escape the ever rising cost of phone bills by switching to VoIP. Axvoice, a trusted name amongst the few reliable VoIP providers, has always set precedents for others to follow. This summer Axvoice offers $99/year plan which includes unlimited calling in the U.S. and Canada for the whole year. This plan is one such option which aims at not only killing the hefty phone bills but to offer an overall package to the customers, which delivers them excellent value for money. Axvoice understands its leading position in the industry and the faith its customers have in its ability to always deliver, no matter what.
The Real Truth
There are literally hundreds of VoIP services out there; gushing out advertisements to make the innocent VoIP subscribers think that they are the best ones out there. Their so called call-for-action advertisements make hollow promises and shaky commitments which rarely materialize. Axvoice's exemplary performance in terms of efficient customer care and flawless delivery of service has always made it stand apart from the average VoIP providers in the industry. Axvoice has always kept in mind the customer-first approach before introducing any calling plan because it knows the importance of relating customer needs with its core service values.
Under the Hood
This plan is full of hi-octane features without any extra liabilities on customer's part. You can have more than two dozen advanced calling features including voicemail, black listing, online account management, call forwarding, free user to user in network calls, and free incoming calls. Users can just log into their account and manage all their details from anywhere at any time. Features only count when they really impact your experience of using a phone service in real terms. Axvoice has always addressed its customers' needs by facilitating them in every way possible. Besides being a transparent and customer focused VoIP Provider, it always keeps on adding exotic features that extend the use of its service and offer more value to its customers for their investment. Call logs for example used to be a feature always missed by the internet phone users as it was meant to be something only available to the cell phone users. Now, you can easily monitor all your ongoing calling activity by checking your call log records.
A plan for Everyone
Ever since the inception of Axvoice, it has always followed a well balanced approach of making plans for all types of customers. Businesses, big or small, can easily fit themselves into the plans that Axvoice offers. Entrepreneurs don't need to think about affordability when they are choosing Axvoice as their VoIP provider. Home Office (SOHO) plan is made for the smaller sized home businesses with lesser budget to spend. With just $14.99 per month, this plan has all the important features that small businesses can ever think of having. With the International Calling plans, you can enjoy calling to over 53 destinations worldwide without even worrying slightest about your phone bills.
Easy to Setup
Axvoice is so easy to setup and install that even a caveman can do that. All you have to do is connect the VoIP adapter to your router and you will be up and running within no time. Besides offering highly reliable phone service, Axvoice reaches out to its customers by extending a 24/7 support. You don't need to sort the problems out by yourself. Axvoice will handle any of the issues that you may encounter.
The Promise
Axvoice is not just any other average VoIP phone service that you pick up from the lot. It has a claim to back up and a repute to live up to. The $99 plan is just one example of why customers prefer Axvoice over other phone services out there. Few VoIP services take such pains in making infrastructure that deliver the customers much more than what they expect. Axvoice offers highly competitive calling rates and customers are evident of the fact that no matter which call plan they choose, they find it tailored in accordance with their specific needs. On top of that every plan is backed by a 15 Day Money Back Guarantee. For further details visit http://www.axvoice.com
Bottom Line
Axvoice's $99 plan is an ultimate problem solver; it would help customers remove one big cause of worry, "the phone bills". It is not just any other ordinary plan that you pick up from an ordinary VoIP provider without any value in real terms. It packs in itself value for money features that would help customers derive a lot more utility for the investment they made. Plus, pre-paying your entire phone bill for twelve months in advance would mean a peace of mind for a complete one year.
# # #