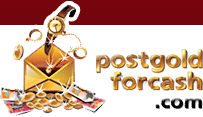 (PRWEB) May 05, 2011
With the well publicised cuts taking effect all around the country, people are looking for more and more ways to maximise the cash in their pockets.
This why Postgoldforcash.com has created an appealing and attractive diagram on ways to earn and save money.
Postgoldforcash.com is well renowned for doing its very best to make sure their customers gain financially when they sell gold online to them. Not only are they passionate about giving customers the best price for gold, they are also very interested in finding out what they can do to help people save money in general.
There are many ways in which the average person can save themselves some serious money. No one is talking about a second job, or selling that prized Beatles back catalogue. There are some very simple changes the money saving enthusiast can make which could help you out a great deal.
Here, Postgoldforcash.com supplies some tips from the diagram to help and benefit anyone looking to save a little money.

Cut down on utility bills. Does anyone really need to turn the heating up in June? Wear a jumper if the chill starts to set in. Obviously turn the heating on in winter but if it's warm outside and your extremities start to feel a little shivery, put a jumper on. Also, only boil the water that is going to be used. So many people fill the kettle up for one cup of tea. Not doing this will save so much energy.
Got a spare space in the old back yard? Invest in some chickens. Not only are there now free eggs on tap, the yard will benefit too, as chickens will eat weeds. Even getting three hens could supply enough eggs to dine happily all year. Plus, selling the eggs that aren't needed will bring in more cash. Cha-Ching!
Check the mobile phone contract. Many people could be paying over the odds for basic texts and minutes. It has been said that three quarters of people on a mobile phone contact could be wasting £200 a year. Also the money saving expert could sell old and unwanted mobiles? At http://www.postphonesforcash.com customers can get up to £180 for their old mobiles.
Get cash for gold. Many people around the country have unwanted trinkets lying around that they know they should get rid of, but can't bring themselves to. Why not contact reputable gold buyers like Postgoldforcash.com and sell gold to them? They pay the best price for gold, much more than their biggest competitors do!
Happy saving!
Notes to editors:
Postgoldforcash.com is a Bournemouth-based gold buyer who specialise in ensuring their customers not only get the best price for their gold but that they are also happier than customers who go to their competitors. Postgoldforcash.com was founded by people who have over thirty years experience in the industry, meaning that customers are always in safe hands.
###