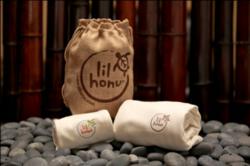 "We are looking forward to sharing our favorite linens! ..."
Diamond Bar, CA (PRWEB) May 02, 2011
In an earth-friendly and reusable jute satchel, Lil Honu will be placing their popular 100% organic cotton, certified by GOTS, receiving blanket and burp cloth for these celebrity moms and their children. Erin Park, co-owner of Lil Honu states, "We are looking forward to sharing our favorite linens! We know that these celebrity Moms, such as Natalie Portman, Celine Dion, Nicole Kidman, Mariah Carey and Kelly Preston, to name a few, will be impressed with the quality, luxury and softness of our organic linens. "
Lil Honu is a web-based children's organic cotton linens and eco-friendly products and accessories store promoting chemical free, pesticide free and allergen free linens. In addition, their products and accessories are lead free, BpA free, Phthalate free and PVC free.
Lil Honu's mission is to provide luxurious organic and eco-friendly baby essentials that celebrate the simple and joyful innocence of children, and preserves the integrity of our environment and personal well-being.
Visit our website at Lil Honu
Current promotion:
Everyday Free Shipping on all orders $75 or more. No shipping code necessary. No expiration date.
###