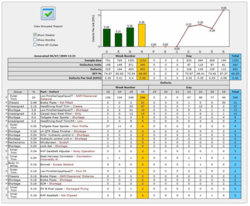 (PRWEB) May 05, 2011
The Interax Group is helping break the belief that North American manufacturers have poor quality control with their FLAGSQIS software.
FLAGSQIS is a software package that provides a solution too many of the problems in accurately identifying defects whether that is a paint defect on a vehicle panel, a fault on a casting, an error on an assembly process or numerous other types of issues. The difficulty lies in easily recording and analyzing them. Our solution to this problem is FLAGS software this software provides Real Time Defect Logging on easy to use permanent or portable terminals utilizing touch screen technology. FLAGS can also be integrated into measuring devices that have an electronic output such as inspection jigs, torque wrenches, pressure tester etc to give a complete picture of the current status of production.
Intranet reporting functions allow for completely configurable reports that allow real time management of your manufacturing process. Triggers can be set within the process that will alert persons via email of issues that fall outside predetermined criteria. FLAGS can also be fully integrated into your current ERP or MRP systems to update production data and provide feedback for such issues as missing parts, rejected components and assemblies
Interax Group is looking forward to speaking with persons from various aspects of manufacturing and demonstrating how FLAGSQIS can help them in managing their area of expertise.
Production: - FLAGSQIS provides a clear picture of current issues through your production cycle identifying current status of WIP, type and location of issues per part or assembled vehicle or other product, and status of all assembly stations
Quality: - By providing real time information, alerts and reporting enables quick concise action to be taken to resolve any issue therefore reducing rework and scrap. The use of standardized logging tools greatly assists in analysis of repetitive issues and also provides a baseline for your six sigma type projects.
Engineering: - FLAGSQIS gives engineering a solid basis for design changes and modifications which can be based on accurate data provided from our system which identifies areas of weakness and opportunities for improvement.
Integration: - Our software can integrate with any of your legacy software to create a completely integrated system that would provide information such as missing parts to purchasing, status of ongoing production, real time workflow times per station and any variance from expected performance.
FLAGSQIS is currently used by companies in various industries such as Jaguar, Aston Martin, Amtrak, Leggatt and Platt. Come and visit us at booth 315.
Interax Group is the North American distributor of Paradigm 3 Document Control software and FLAGSQIS quality and production control management software.
###