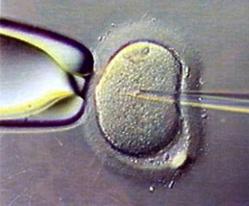 IVF success is determined by multiple factors
Beverly Hills, CA (PRWEB) May 03, 2011
Peyman Saadat, M.D., Medical Director of the Reproductive Fertility Center (RFC) in Beverly Hills, introduces a new, cost-saving approach to IVF treatments. Known as Mini-IVF, the integrative treatment not only saves patients money, but also can reduce the overall negative side effects of traditional IVF medicines.
"IVF success is determined by multiple factors," says Saadat, "including the age of the person, the hormone levels, the condition of the uterus and ovaries, the male's sperm count and the condition of the embryos." He adds that the success rate is somewhere around 60 percent, but decreases with age and is significantly lower after the age of 44. "Other factors that play an important role are stress and the condition of the uterus and ovaries and acupuncture can decrease stress, thereby increasing success rates."
Mini-IVF is recommended for patients with unexplained infertility, those not responding to Clomid or other traditional IVF medications, or those with history of ovarian hyper stimulation.
Traditional IVF works by giving patients a high dose of follicle stimulating hormones to produce multiple follicles. But in Mini-IVF, the goal is to produce few, but better quality follicles to reduce the side effects and at the same time, have good success rates. In addition, acupuncture used in conjunction with Mini-IVF may improve success rates and help reduce some of the anxiety and side effects related to traditional IVF.
Currently at RFC, we offer financial plans for Mini-IVF – the overall savings can amount to 25% off the costs of traditional IVF. RFC has already received a lot of enthusiasm for its Mini-IVF and integrative acupuncture to help infertile couples achieve their dreams of having a health pregnancy.
Sadaat is a graduate of the University of Southern California medical school and completed his postgraduate training at the same institution. His postgraduate training included an internship and residency in obstetrics and gynecology in addition to fellowship training in reproductive endocrinology and infertility.
About Reproductive Fertility Center: The state-of-the art staff helps female and male patients deal with infertility. To learn more about services, visit the Web site at Reproductivefertility.com or call (310) 894-8383.
###