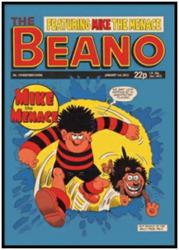 Do you know anyone mischievous enough to be 'the Menace'?
(PRWEB UK) 4 May 2011
Watch out, 'the Menace' is back. Just pay a visit to the leading specialist personalised gift site GoneDigging to experience the mayhem created by a new 'Dennis the Menace' – the infamous Beano comic character. In this new range of prank-fuelled personalised Beano gifts, ANYONE can now be 'the Menace'. See 'your' Dennis causing havoc in one of our comic books, with any name of your choice featured on the cover and in the comic strip as the new 'Menace'. You can also have 'your' Menace star in our personalised Beano calendars, mugs, and posters.
Do you know anyone mischievous enough to be 'the Menace'?
These new personalised Beano gifts have been launched following a licensing agreement signed with D.C. Thomson and Signature Gifts earlier in the year.
"Signature Gifts is thrilled to have completed the licensing deal with D.C. Thomson," says Mike Herbert, co-founder of Signature Gifts. "D. C. Thomson's Beano characters are known throughout the world and are incredibly popular among all generations. As a result we anticipate that this personalised range will be extremely popular with our customers."
Personalised gifts in the range will include:

A 24-page Birthday Comic Book. With an iconic front cover and birthday storyline, this soft-back book can be personalised with the recipient's name, e.g. Mike "the Menace", throughout the book. Price £14.99.
Beano Personalised Posters. The posters will be personalised with the recipient's name, so that he becomes The Menace, e.g. Tom the Menace. There's the option on selected posters of including the birthday date and year of birth. Posters will be approximately A3 size (30cm X 42cm), and will be available unframed or framed, from £9.99
Beano Calendars can start from any month of your choosing, making it the perfect year-round gift. Each one of the 12 comic images can be personalised. And you can also personalise the front cover with the name of the recipient and your own personal greeting or message. Uniquely to GoneDigging, on the A3 calendar you can select up to 20 important dates that you need to remember – these will be printed onto the calendar for you. Available in A3 or A4, from £14.
Personalised Beano Mugs, featuring ANY NAME the Menace, are personalised with the name of your choice. There's even an option of having your beverage choice (e.g. Coffee, Milk and 2 Sugars) printed on the mug. Price £9.99.
About GoneDigging
GoneDigging (http://www.gonedigging.co.uk) is part of Signature Gifts Ltd which operates a number of innovative gift sites in the UK and the US. This includes GoneDigging (our personalised gifts site) and Historic-newspapers.co.uk (original newspapers from someone's date of birth) in the UK, and SimplyPersonalized.com – our personalised gift site in the US.
Personalised gifts available include Sports Books based on historical newspaper coverage (including 60 football teams), personalised wines and spirits, personalised calendars and diaries, personalised stationary, spoof newspapers and personalised mugs.
Established by Mike Herbert and Kevin Spindler in 2003, Signature Gifts Ltd employs over 100 staff based in three locations: Harpenden in Hertfordshire, Wigtown in Scotland, and Rahway, New Jersey in the US.
###