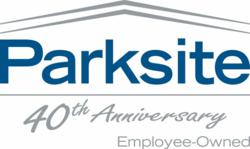 Not only do our people focus on doing their jobs well, they focus on doing the right thing for our customers, our suppliers and for the company we own together.
(PRWEB) May 03, 2011
Parksite, a 100% employee-owned sales, marketing and distribution company, is pleased to announce its 40th anniversary in the building industry. Parksite is one of the fastest growing building materials suppliers in the United States. The company operates in every state east of the Mississippi, offers 23 product lines and has more than 300 associates in 12 locations.
"As employee-owners we are all very proud of our collective effort," said George A. Pattee, Parksite CEO and Chairman of the Board. "Our family of associates is committed to education and providing the building industry with quality and innovative products. We all are vested in the success of the company, and that enthusiasm shows itself everyday through hard work, dedication to the job, across-the-board camaraderie and most importantly, customer satisfaction."
"Forty years is quite an accomplishment, especially considering how difficult the last few have been in our industry. The fact our associates are the only shareholders is one of the keys to Parksite's sustainability," said Ronald C. Heitzman, Parksite President. "Not only do our people focus on doing their jobs well, they focus on doing the right thing for our customers, our suppliers and for the company we own together. That drives our success."
Parksite was founded in 1971. As a part of its growth strategy, the company acquired east coast building supplier Plunkett-Webster in 2000, Metro-Sloan in 2001, and Eastern Distributors in 2005, and increased its territory expansion for one of its major product lines in northern Indiana and northern Ohio, in 2010.
Today, Parksite offers a wide range of building specialty materials including DuPont Tyvek® Weatherization Systems, Azek® Building Products, specialty Cedar, Deckorators, Nichiha Fiber Cement DuPont Corian®, DuPont Zodiaq® and Natural Stone.
Parksite will celebrate its anniversary through the end of 2011. The festivities began in winter when CEO George Pattee and President Ron Heitzman visited associates at all Parksite locations and briefing them on the company's continued vision and strategy. This summer, there will be a company-wide competition in which associates will build and decorate eight playhouses to be donated to charity.
In 2009, Parksite associates, across the organization, participated in the "Power of 100," where employees brainstormed on hundreds of ideas to save thousands of dollars. As a part of the anniversary celebration and an extension of the 2009 campaign, associates will each be given $100 to make a difference in their communities.
Parksite affiliates itself with organizations in the building industry and currently assists Habitat for Humanity, the American Red Cross and HomeAid, (a national non-profit provider of housing for the homeless) with building materials and on-site people power.
"The name Parksite is synonymous with innovation, quality products, customer education and employee pride," said Pattee. "We look forward to the next 40 years and beyond."
About Parksite
Parksite is an employee owned company that provides a combination of direct sales, market development and progressive distribution services within the building materials supply chain. We recognize that each customer, manufacturer and product has unique requirements and we customize our services to meet those needs. Parksite defines its position in the supply chain by investing resources in activities that result in accelerated market acceptance of new products. More information about Parksite and its products is available at http://www.parksite.com.
###