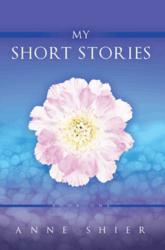 "I think these stories are both enjoyable and relatable in a variety of ways," says Shier. "They're inspired from life experience. You can't get more real than that."
Toronto, Canada (PRWEB) May 02, 2011
A new book has proven that life can be illustrated in three pages or less.
In the appropriately titled My Short Stories, Anne Shier brings readers a collection of narratives that capitalize on the popular notion that, "truth is stranger than fiction." Aimed at providing readers an entertaining book that is relevant to lives in all stages, Shier touches on everything from marriage to divorce, seduction to murder and romance to betrayal.
"I think these stories are both enjoyable and relatable in a variety of ways," says Shier. "They're inspired from life experience. You can't get more real than that."
Shier, who has been married and divorced twice and has overcome the challenges of being a single mother, says that writing serves as an outlet for her to talk about her life experiences. She has written more than 35 short stories on varying topics, creating a well-rounded book applicable to many lives.
Highlighting people, relationships and even death, Shier draws from the ups and downs of her own past. But she feels the book has more to offer than just a short recap of her own life. Through the use of characters, she brings these aspects to life while simultaneously giving the reader the ability to vicariously identify and relate to her on a personal level.
"It's a fictional work that is based on the truth that we all understand," says Shier. "People are unpredictable, but the whole of our life experiences are somehow largely identifiable."
About the author
Anne Shier has been writing short stories since the mid-1990s. A computer science and computer technology teacher at an Ontario high school, she holds a bachelor's degree from the University of Toronto and an IT management certificate from Ryerson University. She also attended Seneca College, graduating as a computer professional with an advanced diploma. Shier currently resides in Ajax, Ontario.
EDITORS: For review copies or interview requests, contact:
Jessica Kiefer
Tel: 317.602.7137
Fax: 317.536.3775
Email: jkiefer(at)bohlsenpr(dot)com
(When requesting a review copy, please provide a street address.)
###