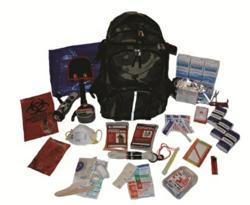 VIP Global Enterprise, Inc. also has Gourmet Long Tern Food.
Janesville, WI (PRWEB) May 03, 2011
Instead of power tools, grills or other man things for a Fathers Day gift this year, why not choose something different from SurvivalTools-Equipment.com. There are Survival Kits for hunters, campers and hikers.
With the impressive selection of Survival Kits, there is something for everyone. This week SurvivalTools-Equipment.com is featuring the 1 Person Deluxe Hunter Survival Kit. This survival kit was designed using advice from experts in the emergency preparedness and the hunting industry. They follow the guidelines given by government agencies and non-profit preparedness organizations. This deluxe hunters survival kit has a retail value of $130 for only $109.99.
As the gas prices are getting higher why not shop at SurvuvalTools-Equipment.com, this way consumers don't have to fight the traffic, look for a parking place or stand in long lines.
About SurvivalTools-Equipment.com:
SurvivalTools-Equipment.com offers a large selection of survival kits at a discount price backed by the guarantee satisfaction of VIP Global Enterprise, Inc.
###