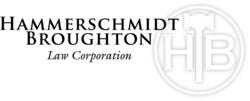 "There are many developments taking place in science that directly affect the rights of men and women accused of crimes. It is our duty as attorneys to keep up on these changes so that justice is served." -- Jeffrey T. Hammerschmidt
(PRWEB) May 05, 2011
Jeffrey T. Hammerschmidt, managing shareholder of the Hammerschmidt Broughton Law Corporation in Fresno, California, has accepted an invitation from Aspatore Books (a Thomson Reuters Business) to author a chapter in an upcoming book titled Utilizing Forensic Science in Criminal Cases.
"I am honored to author a chapter on a current topic in science and the law," says Hammerschmidt. "There are many developments taking place in science that directly affect the rights of men and women accused of crimes. It is our duty as attorneys to keep up on these changes so that justice is served."
Specifically, Mr. Hammerschmidt will be writing about scientific issues in the defense of persons falsely accused in child death cases. These issues will include the use of investigators and medical experts in these types of cases. A portion of the chapter will deal with so called "Shaken Baby Syndrome," which many leaders in the medical profession now believe is an improper diagnosis with no medical basis in fact. "During the next two decades the number of innocent persons who will be released from prison in child death cases will rival the number released because DNA testing proved their innocence," Hammerschmidt said.
The book will be part of Aspatore's Inside The Minds series, which is held in high regard by many in the legal profession. The series features insights from law professionals who address the most critical issues attorneys face today and offer strategies for managing those issues and effectively advocating for clients. Among them is Cathy Fleming, a partner at the law firm of Edwards Angell Palmer & Dodge LLP in New York, who says that the series provides "cutting edge advice from the best in the business." Adding to her sentiments is Omer S. J. Williams, once with the former law firm of Thacher Proffitt & Wood LLP, who said "Inside the Minds provides thought leaders with a forum to share practical insights on the legal issues making today's headlines."
Hammerschmidt Broughton Law Corporation is a Fresno -based law firm specializing in criminal defense matters with key practice areas in violent crimes, white collar crimes, drug crimes, and DUI. The firm can be reached at (559) 233-5333 and is also on the Web at http://www.hbcriminaldefense.com.
# # #