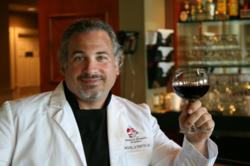 Give yourself, and your family, the gift of a healthy heart this Father's Day.
Tampa, FL (PRWEB) May 02, 2011
Dr. Michael Fenster believes that good health is the greatest gift anyone can give and receive. This Father's Day forget the greasy burgers and the industrial mystery meat in tube form; go healthy with a great chicken barbecue. As a practicing interventional cardiologist and chef, Dr. Fenster says "chicken does not have to mean boring. Chicken is a great source of low-fat protein and dressed up right, chicken can be an amazingly delicious treat."
Dr. Fenster also suggests we make Father's Day a day of health not only for dad but the entire family by adding some exercise to the day's activities. "Moderate exercise has been shown to help suppress the appetite. Walking is one of the best and easiest activities we can do. A short walk after a barbecue will help lower blood pressure and increase digestion. A relaxing walk is the perfect way to end the day."
To make your Father's Day barbecue complete, Dr. Fenster suggests adding fresh vegetables to the grill. "Take some red and green bell peppers, zucchini, some broccoli, and any other favorite vegetables, toss them in a small amount of olive oil and a few spices, then add them to the grill. You will be amazed at how delicious these grilled vegetables will taste and be so good for you."
Eating fresh and natural foods is part of Dr. Fenster's Grassroots GourmetTM (GG) concept (and soon to be book) that is derived from his beliefs and studies as a physician and as a chef that we are what we eat. Grassroots Gourmet is his easy-to-follow guideline for navigating between deprivation and gastronomic gluttony and follows three basic principles, what Dr. Fenster calls the Threefold Path of Be's:

Be Aware and Avoid the Siren Call of Junk and Fast Food
Be Fresh – eat as much fresh and naturals foods as possible
Be On-Time and In Proportion
Following the Grassroots Gourmet principle, Dr. Fenster says "be sure to purchase a vegetarian fed free-range chicken. These birds are naturally lower in fat, do not contain any hormones, and increase the levels of beneficial and essential polyunsaturated fats like omega 3 and 6 and a great source of minerals like selenium. Free-range chickens are also rich in niacin, B-6, B-12, vitamin D, iron and zinc. If desired, you can reduce the fat content even further by removing the skin."
TROPICAL CRYSTAL CHICKEN
6 Servings
Serving Size 6 oz; 340 Calories per serving; 24 g total fat; 1 g Carbohydrate
This dish combines tropical flavors with a mild heat and a marinade that leaves your grilled bird tender, sweet and juicy. Top it with a little Southern sauce if you need a little extra tang. This is so good off the grill that you will forget how good it is for you.
1 whole chicken, split in two
Marinade
o 12oz of hot sauce like Crystal or Louisiana Brand
o 10.5 oz Coconut water
o 13.5 oz Coconut milk (low fat is preferred)
o 1 lemon
o 16 oz fresh pureed pineapple
o 1 orange
o 3 garlic cloves, crushed
o 1 tsp allspice, crushed
o 3 sprigs oregano
o 3 sprigs thyme
o 2 bay leaf
o 1 star anise

1 Tbs dried oregano
1 Tbs dried thyme
1 Tbs paprika
Remove any giblets and parts inside the chicken then split in half, lengthwise and set aside.
In a large container that can hold the marinade contents and the chicken add all the ingredients. Squeeze the lemon and orange to add the juice, and then add the rinds in quarters.
Marinate the chicken at least 4 hours, preferably overnight. Remove and pat dry. Top with paprika, dried oregano and thyme.
Grill the chicken until done. The exact time will depend on the size of the bird but the juices should run clear and the internal temperature should be 170-175 0 F (Poultry temperature is 180oF but you need to allow for carryover cooking). Allow the bird to rest in foil for about 10 minutes prior to serving.
The chicken will be flavorful and tender, but if you like some delicious, slightly spicy sauce add the Western North Carolina Style BBQ Sauce (recipe follows).
Western Style North Carolina BBQ Sauce
Serving Size 1 oz; 25 Calories per serving; 1.5 g total fat; 3 g Total Carbohydrate
This delicious barbecue sauce is low in sugar, fat and sodium, the usual suspects in most commercial sauces. By taking out all the preservatives and sugar, we cut the calories and carbohydrates way down. This sauce uses all natural honey for sweetness.
4 tbsp butter or substitute
1 ½ cups onion, finely chopped
4 cloves of garlic, chopped
½ tsp dried oregano
½ tsp dried thyme
½ tsp garlic powder
½ tsp onion powder
2 tsp smoked paprika
2 tsp dry mustard
1 tsp cayenne pepper
½ tsp ground black pepper
6oz tomato paste
1 ½ cups water
¾ cup apple cider vinegar
2 tbsp honey
Melt the butter in a saucepan over medium heat. Add the onions and soften, about 2 minutes. Add the tomato paste and cook for several minutes until it darkens in color, stirring frequently. Add the dry spices and cook 1 more minute. Add the liquid and honey and bring to a boil. Reduce to a simmer and reduce the liquid by 1/3.
In a food processor or blender in small batches, puree the liquid. You may also use an immersion blender. For a sweeter sauce, use more honey; for a spicier sauce use more hot pepper.
Recipes may be reprinted with the following credit:
Copyright Michael Fenster
Photos by Jennifer Fenster
ABOUT MICHAEL FENSTER, MD, F.A.C.C., FSCA&I, PEMBA
Michael Fenster combines his culinary talents and Asian philosophy with medical expertise, creating winning recipes for healthy eating. He is frequently asked to present live cooking demonstrations as well as giving numerous radio interviews on health and food shows both nationally and internationally. Michael is a certified wine professional and chef, receiving his culinary degree from Ashworth University where he graduated with honors. He has worked professionally in kitchens prior to entering medical school and maintained his passion for food and wine throughout his medical career. Mike helped manage the award winning Napa Alley in Roanoke, Virginia, and hosted a local cable TV cooking show, "What's Cookin' with Doc" in Dublin, GA. He has written columns for News-Line.net; SheKnows.com, is a regular columnist for the culinary magazine Basil, as well as a member of their Council of Chefs and a monthly health and fitness contributor to The Tampa Tribune. Mike's heart healthy recipes have are reprinted in newspapers and magazines across the country, and he regularly cooks up healthy meals on the nationally syndicated television show "Daytime."
Michael Fenster, MD, is a Board Certified Interventional Cardiologist, currently on staff with the Cardiology Specialists of Florida at Hernando Heart Clinic. He has participated in numerous clinical trials and spoken nationally on a variety of cardiovascular topics to audiences ranging from lay public to peer presentations at the American Heart Association and American College of Cardiology meetings. He has also published numerous professional peer reviewed articles and served as an Assistant Professor of Medicine at North East Ohio University College of Medicine (NEOUCOM). Michael recently graduated summa cum laude from Auburn University's Physician's Executive MBA program.
Michael holds a JuDan (10th degree black belt) ranking in Bujinkan Budo Taijutsu, which he has studied over the last three decades. He lives in Spring Hill, Florida, with his wife Jennifer. His book, Eating Well, Living Better: A Prescription for Wellness and Epicurean Enlightenment will be published in early 2012.
To see cooking demonstrations with Michael Fenster and more recipes, visit http://www.WhatsCookingWithDoc.com.
###