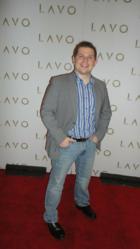 One of the most important lessons I have learned is that you have to give back when you receive.
Calgary, Alberta, Canada (PRWEB) May 02, 2011
James Timothy White, the world's youngest CEO ever listed on the Frankfurt Stock Exchange through his corporation, Eurotex Finanz Inc (KFE.DE), and founder of multi-million dollar trust company Eurotex Global Savings & Trust SA (http://www.egsavings.com), has pre-released his new book for pre-purchase on Amazon.com, titled Asset Protection: What If?. The title is set to be released on May 15, 2011 with his new publisher Motivational Press Inc.. The audio book and eBook will be available on June 1, 2011.
James Timothy White understands the importance of financial literacy for small businessmen and women who work hard every day building businesses, those looking to start a business and those who require more knowledge on the subject.
James is committed to helping small businesses and individuals understand the importance of asset safety and financial literacy, even if they may not have the money to buy his books.
White says, "I have managed to come back in a few short months from a hard time in my life. I have been making more money than ever and this is a way to pay it forward to those people who want to understand and learn about the topics that I write about. One of the most important lessons I have learned is that you have to give back when you receive."
Mr. White's books cover everything from personal finance, to asset protection and even a book on his personal experience. The best part is, they are all available for free for Non-Profits, Schools, Churches and Learning Centers until December 31, 2011, or until his $250,000 dollar donation runs out (Limit of five book titles per organization).
For more ordering information, questions, or clarification on the program, please contact info(at)jamestimothywhite(dot)com. Please note, the program is subject to change at any time without notice.
If you are not a Non-Profit, Schools, Churches and Learning Center or wish to order large quantities at a discount for events, please contact the Motivational Press's order department at Tel: 888-9357-4441, Fax: 949-272-3789, Email: info(at)MotivationalPress(dot)com.
###