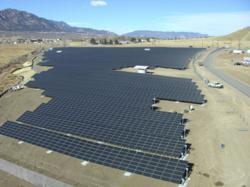 The FIT market has created a market situation that is excellent for all parties involved in solar energy, from manufactures, integrators, installers, investors, companies and home owners.
Toronto, Ontario (PRWEB) May 02, 2011
Conergy's Vice President of Solar Large Projects, Kurt Zwerko, will be participating in a session about "Deploying Solar – What challenges are Developers Still Facing?" As an established expert in renewable energy development, financing, engineering, operations and management, Mr. Zwerko has unique insight into the different types of challenges for a wide variety of installations, including landfills, brownfields, investor-owned solar plants and commercial roof-mount systems. Having built and managed more than 50MW of renewable energy projects, Mr. Zwerko has managed projects that have faced financing, engineering, permitting, construction and maintenance problems. Mr. Zwerko will be speaking on Friday, May 6th at 3:15 at the Solar Ontario conference in Windsor.
Mr. Zwerko's attendance at the Solar Ontario event will mark the introduction of the Conergy Solar Large Projects Group to the Ontario market. From planning, financing and engineering to procurement, construction, permitting, and maintenance, the Conergy Projects Group has provided turnkey solutions to meet a continuum of renewable energy objectives. The Group will bring its experience in developing power plants around the world from a 10 MW system for a Michelin manufacturing plant which at the time of interconnection was the largest rooftop installation in the world to 20+ MW installations in Spain and South Korea. In the United States, the Projects Group team brought online a 2 MW ground mounted photovoltaic installation at the Fort Carson U.S. Army base in Colorado, a 3 MW ground mounted photovoltaic installation in Pennsylvania for Exelon and a 1.6MW tracker system in California for the South San Joaquin Irrigation District. Last year, Conergy's Solar Large Projects Group signed a joint venture with Skypower to develop rooftop solar systems. Mr. Zwerko stated, "We are excited to bring our expertise in project development to the booming Ontario market. The FIT market has created a market situation that is excellent for all parties involved in solar energy, from manufactures, integrators, installers, investors, companies and home owners. As the market continues to grow, Conergy's Solar Large Project Group will work with its partners so they can maximize their investments."
Conergy will be located at Booth 1 and will have a complementary suite for meetings in the executive suite in the Augustus Tower on Friday, May 6th during show hours. Meetings can be pre-scheduled by contacting the Canadian offices at 1-888-489-3701.
About Conergy North America
Only Conergy delivers solar energy systems from a single source. As a system manufacturer, Conergy produces all components for a solar installation and offers all services under one roof. With its modules, inverters and mounting systems, the solar expert creates Conergy System Technology, which is efficient and synchronized solar energy systems for private or commercial rooftops, as well as for multi-Megawatt Parks.
Conergy System Services deliver a "Worry-Free Package" for Conergy solar installations. Conergy's experts not only install on-site turn-key solar projects, but they also manage the planning and financing, project implementation, system monitoring, operation and on-going maintenance of the project for maximum performance. With this comprehensive technology and service package, Conergy offers yield insurance for its installations.
Conergy System Sales brings Conergy premium products to nearly 40 countries. The solar expert supports homeowners, installers, wholesalers and investors in their efforts to "go solar" through deep-rooted local operations in 18 countries. With sales activities on five continents, Conergy has close relationships with all its customers. Listed on the Frankfurt stock exchange, Conergy employs more than 1,700 people worldwide. Since Conergy's founding in 1998, it has produced and sold more than 1.5 GW of clean solar power.
Through its acquisition of well-established local companies, Conergy began operating as a distributor and project developer in North America in 2005 and currently has five offices, four warehouses and two production sites in the region. In the United States, Conergy manufacturers mounting systems in Sacramento, CA. In Ontario, Canada Conergy manufactures mounting systems that meet local content requirements for the Provincial FIT. In addition, Conergy operates a Project Group that develops and operates large-scale systems. Through these activities, Conergy maintains expert knowledge about local market conditions and requirements.
Please contact us if you have any questions or requests.
# # #