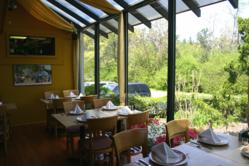 Recognizing local culinary talent and their commitment to NC products.
Southern Pines, NC (PRWEB) May 03, 2011
Elliott's on Linden and 1895 Grille, both establishments located in Pinehurst have been selected as finalists in the Eastern Piedmont/Coastal Region in the fine dining category for the Best Dish in NC contest. The Best Dish in NC is a statewide contest that recognizes and rewards the efforts of restaurants and chefs who use NC products regularly in their menus, which increases the awareness of the quality of local foods, restaurants and chefs. As a matter of fact, the 2010 Best Dish winner was Ashten's located in Southern Pines, a mere seven miles from Pinehurst.
Judges will visit each finalist to sample the restaurant's proposed menu for the contest. The finalists are required to feature the dish or combination of courses in their restaurant for a four-week period May through September. Winners will be announced in November. If you would like to learn more about the contest, visit http://www.bestdishnc.com. What a great way to learn more about the culinary assets of North Carolina. So much more than barbecue, grits, sweet tea, and moon pies.
###