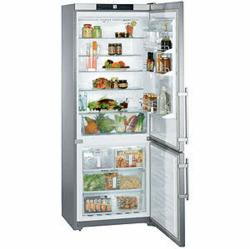 Better food preservation, energy efficiency, silent-operation, utilization of space, and more design options to better fit your needs.
Berkeley, CA (Vocus/PRWEB) May 07, 2011
General Appliance, the premier East Bay appliance dealer, is now offering Liebherr refrigerators. Liebherr is the worldwide leader in premium refrigeration. Its freezer compartments can be accurately controlled independent from each other, ensuring ideal refrigeration performance for different foods.
With no air exchange between the refrigerator compartment and freezer compartment, the dual refrigeration system prevents odor transfers between compartments and better humidity control so that foods stay fresh tasting and smelling and do not dry out.
With over 50 years of experience in cooling, the German manufacturer sets the pace with continuous product innovation and a proactive approach to responsible manufacturing.
People buy Liebherr refrigerators because its dual compressors guarantee better food preservation and offer energy efficiency and quiet operation. The units also offer better utilization of space and more design options are available.
General Appliance of Berkeley is now offering the new CS 1640 freestanding refrigerator, which has received the top EnergyStar rating. It features two compressors, digital temperature control, and is one of the only refrigerators on the market that does not need plumbing.
"When using plumbing to connect or disconnect waterlines, water damage can be a major concern which can be extremely expensive," says Ife Collins, Director of Marketing at General Appliance of Berkeley. "That is not an issue with this refrigerator."
The CS 1640 also offers a better range of space capacity . Refrigerator features include a removable VarioBox that can go straight from the fridge to the table and increased gallon holder space on doors for larger containers. The freezer not only stores food more efficiently, but it has innovative FrostSafe freezer drawers that keep cold air from escaping when the door is open.
Liebherr's removable and flexible drawer system, called VarioSpace, allows expansion for oversized items such as a turkey or large container as seen in the Bio fresh full extension figure.
For more information on the CS 1640 or any of General Appliance of Berkeley's other products or services, please call (510-987) 3719 or visit their website http://www.bayareakitchenappliances.com.
About General Appliance of Berkeley
General Appliance of Berkeley is a San Francisco Bay Area cabinet design and appliance and cabinet retailer that specializes in kitchen designs and remodels, kitchen appliance sales, and bathroom and kitchen cabinets and countertops. General Appliance has served the San Francisco Bay Area for 40 years, and their kitchen appliance professionals and cabinet designers each have at least ten years of experience at their location.
# # #