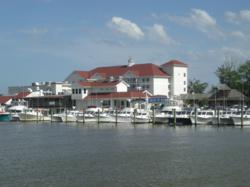 We are very proud of our past here, and are looking forward to the next 65 years in business!"
Chesapeake Beach, MD (PRWEB) May 05, 2011
Over 100 years ago Chesapeake Beach, Maryland was a thriving vacation destination with visitors coming by steamship and railway to stay at the grand hotel, dine on local seafood dishes, gamble, play at the waterfront amusement park and stroll on the boardwalk. Today the Chesapeake Beach Resort & Spa embodies that same spirit of a complete Chesapeake Bay waterfront getaway destination.
During the past 65 years the original restaurant and marina have evolved to include a luxury hotel and full service spa located right on the Bay, a second marina, two more waterfront restaurants, meeting rooms, waterfront ballrooms, beautiful bay views and beach front. Amusements today at the Resort are many with bingo and gaming, charter fishing and other water sports, special weekend packages for all ages and beach side musical entertainment. Famous for being the Charter Fishing Capital of Maryland since 1946, the Resort also boasts two full service Marinas, The Rod 'N' Reel Dock and Marina West. Co-owner Gerald Donovan states "My brother and I wanted to recreate the same atmosphere that Otto Mears had 100 years ago when he envisioned Chesapeake Beach being the next Monte Carlo on The Chesapeake Bay. We are very proud of our past here, and are looking forward to the next 65 years in business!"
Best known for the Rod 'N' Reel restaurant, the Resort also features two other dining locations, Smokey Joe's Grill and the outdoor Boardwalk Café. Recently renovated the Rod 'N' Reel offers a waterfront dining experience in a light and airy dining room with many of the same recipes of the last 65 years. Here, classic Chesapeake Bay seafood dishes, sizzling steaks and Chef's specials are served accompanied by a diverse wine menu designed to compliment the fare. Executive Chef Joseph Misero has designed a new menu for the 65th year and says "We will have brought back some of the most popular dishes from past menus and introduced some new Chesapeake-infused culinary creations".
The Resort plans to celebrate their Anniversary during the year with new restaurant menus and specials, hotel and marina anniversary rates, and featured activities open to the public including the 65th Anniversary Celebration scheduled for June 5, 2011. The Rod 'N' Reel Dock and Marina West are offering discounts on annual slip reservations and the Hotel has continual seasonal specials and packages. The 65th Anniversary Beach Party will be a day filled with family activities for all ages. Live music, waterfront food and libations from the Boardwalk Café, moon bounce, popcorn and snow cone stands and children's beach games. Facebook fans of the resort can submit their favorite memory of past times spent at the resort properties and be entered to win a free weekend getaway at the Resort.
Another landmark occasion coinciding with the 65th Anniversary is the 30th Annual Cancer Crusade Celebration of Life Gala, hosted on August 4, 2011 by the Resort. This annual event is a huge outdoor fundraiser at the Resort and has raised over four million dollars for cancer treatment. "This is a spectacular, giant cocktail party which we strive to improve upon in every aspect each year. Our goals are to exceed everyone's expectations at each event and to eventually see cancer cured.", says Gala Host Gerald Donovan.
The Resort complex is located at 4165 Mears Avenue Chesapeake Beach, Maryland 20732, Flashing Green "1" at: LAT 76°31 20 W, LONG 38°41 30 N. For more detailed information on the Chesapeake Beach Resort & Spa, Anniversary Specials and events, contact 410-257-2735 or visit http://www.cbresortspa.com.
###