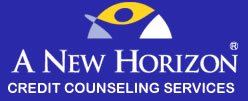 "The Federal Reserve website is an indispensable resource for consumers," added Stark
Fort Lauderdale, FL (PRWEB) May 02, 2011
At a Federal Reserve hearing held April 12, 2011, Chairman Ben Bernanke delivered a statement highlighting the importance of financial literacy and consumer education to a stable economy. He emphasized that informed consumers achieve better outcomes for their own financial health and help to increase market efficiency and innovation. Leading nonprofit credit counseling and debt management organizations, such as A New Horizon Credit Counseling, say they are pleased to see a national effort to increase financial literacy.
"Wise financial decisions can only come from the consumer having access to useful, practical and reliable financial information, presented in a manner that is comprehensible to the average consumer," stated Steven Stark, COO and General Counsel for A New Horizon Credit Counseling, which delivers Credit Counseling and Debt Management planning services nationwide.
Bernanke stressed that financial education must be a lifelong pursuit in order for consumers to remain in step with changes in their own financial circumstances and to take advantages of products and services that best meet their goals. To further this initiative, the Federal Reserve provides an interactive website with regulatory information and links to calculators and resources. The site also includes up to date material on scams and other services and products that consumers must be aware of to avoid further financial hardship.
"The Federal Reserve website is an indispensable resource for consumers," added Stark, "but not every consumer is comfortable with going it alone. A reliable, licensed and bonded credit counseling agency can provide essential assistance with paying off existing creditors, strategic budgeting, proper future use of credit, and guidance on how to save and build wealth."
You can view a full transcript of Chairman Bernanke's testimony at http://www.federalreserve.gov/newsevents/testimony/bernanke20110420a.htm
A New Horizon Credit Counseling Services is a nonprofit debt consolidation organization that has been helping consumers since 1978. For more information about their programs, contact 1-800-556-1548. They can also be found on the web at http://www.anewhorizon.org, or reached via email at slieberman(at)anewhorizon(dot)org.
# # #