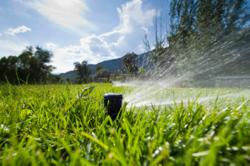 Toronto, ON (PRWEB) May 05, 2011
All Green Lawn Sprinklers released their new website. The new site has a crisp and clean design, which is easy to navigate. The new website is has all the information necessary for their clients and visitors to familiarize themselves with the initial process of planning the installation of lawn sprinkler systems.
All Green Lawn Sprinklers makes it known on their new website that they are more than just a lawn sprinklers Toronto company. The twenty year old business offers sophisticated computerized systems, installation, maintenance and repair. All Green Lawn Sprinklers provides irrigation services which create lush green lawns, while minimizing wasted water, and excess costs. Their landscape lighting systems guarantees that the lawn will be an accentuated and inviting outdoor space. They provide custom service to residential properties, commercial gardens, condominiums, solariums and penthouse gardens.
The newly launched website provides information on their: sodding, fencing, stone installation and decking services. All of these services are components of a complete and well cared for lawn. The company also recommends video surveillance cameras to monitor property from anywhere. The video cameras include IP based software to monitor a property from an Internet connection, from anywhere in the world. All of these products and services can be read about in full detail on their new website.
The company started their passion for lawn sprinklers with Kerry Gibson, the founder of All Green Lawn Sprinklers. Kerry always had a green thumb, and a fascination for all types of plants and vegetation. After running a successful orchard in British Columbia, Gibson relocated to Toronto, and established All Green Lawn Sprinklers in 1999. His goal is to service the sprinkler systems in Toronto and GTA area with cost-efficient solutions to lawn care. The company has green initiatives including water conservation. One customer, Jonathan Greene wrote to All Green Lawn Sprinklers to say,
"When I moved into my new home in Richmond Hill, I hired All Green Lawn Sprinklers to install an in-ground computerized sprinkler system. My career takes me out of town fairly often, and I didn't want the lawn to go to pieces while I wasn't around. I was so impressed with their friendly and knowledgeable service with my lawn sprinklers, that I hired them again for landscaping. Like their new website says, my lawn is now the envy of the neighbourhood. I receive compliments all of the time, and I hardly lift a finger to keep it maintained."
The site also features a comprehensive FAQ section to de-bunk any misconceptions and hesitations about having lawn sprinklers installed, and will answer commonly asked questions. All Green Lawn Sprinklers are excited about the launch of their new website and encourage existing clients and new visitors to have a look around at the new additions. They are available for free consultations any time.
Contact:
All Green Lawn Sprinklers
8 Crane Avenue
Toronto ON M9P 2T2
Tel. (416) 676-1981
For more information about All Green Lawn Sprinklers and their GTA lawn sprinkler services visit, http://www.gtalawnsprinklers.com/
###