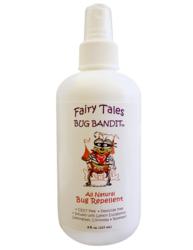 "We are pleased to offer parents BUG BANDIT, a DEET free, all natural bug repellent spray to use on their children," says owner Risa Barash
Passaic, NJ (PRWEB) May 02, 2011
Spring has arrived and the mosquitoes are biting! Thanks to Fairy Tales Hair Care, parents can finally just say NO to DEET. Fairy Tale, makers of Rosemary Repel lice prevention and Sleep-Tite Bed Bug Spray has launched Bug Bandit to keep bugs at bay using all natural ingredients instead of pesticides or chemicals.
Bug Bandit is a non-toxic, DEET & pesticide free body spray infused with Lemon Eucalyptus and Soy Bean Oil. In 2008, The Department of Health and Services reported on the efficacy of Lemon Eucalyptus. "In two recent scientific publications, when repellents containing oil of lemon eucalyptus were tested against mosquitoes found in the US, they provided protection similar to repellents with low concentrations of DEET." In addition, The Journal of Pesticide Reform reported on the effectiveness of soybean oil as a safe alternative to pesticide filled repellents. "When USDA researchers tested the success of soybean oil repellent, they found that it provided protection from bites between 5 and 8 hours."
In addition to the lemon eucalyptus and soybean oil, Bug Bandit is infused with rosemary oil, citronella, lemongrass, peppermint, cedar bark and cinnamon. Bug Bandit is blended with natural ingredients such as soybean oil to keep skin silky soft, and moisturized. Directions for use: Shake well to blend the ingredients and apply frequently as the fragrances keep the bugs away!
Bug Bandit and the entire line of products from Fairy Tales are sold in fine salons, and specialty stores in the U.S. For locations and additional information, visit http://www.fairytaleshaircare.com.
About Fairy Tales Hair Care for Children
Founded in 1999, Fairy Tales Hair Care has been producing their line of organic Rosemary Repel products which include a complete line of shampoos and conditioners, gels and sprays that can be used daily. In addition they also carry a wide range of natural products for those "other" pesky critters. Fairy Tales Hair Care products are sold in over 7,000 salons, specialty stores pharmacies in the U.S.
Headquartered in Passaic, New Jersey, Fairy Tales Hair Care is the U.S. leader in all natural lice prevention products for children. For more information, call (888) 244-1990, or http://www.fairytaleshaircare.com
###