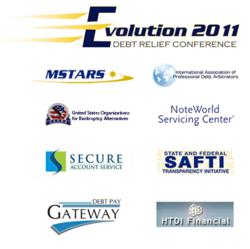 "It is about more than just survival," says Hearn. "This event is going to unite the debt relief industries behind one cause: Helping the American Consumers out of debt."
Las Vegas, Nevada (PRWEB) May 02, 2011
Today MSTARS LLC, a Minneapolis based compliance training company, announced the official launch of an unprecedented event. Working together with industry leaders from all disciplines of the debt relief industry, the highly anticipated event is finally official. Aptly named Evolution 2011™, the debt relief conference is a culmination of years of unrelenting challenges and evolutions within the debt industry.
MSTARS LLC, an industry leader in compliance training and agent certification processes, has rallied the support of the industry's leading organizations to create this impressive event. Joining forces with the United States Organizations for Bankruptcy Alternatives (USOBA), the industry's largest and most powerful trade organization, and the International Association of Professional Debt Arbitrators (IAPDA), providers of industry leading certification training programs, Evolution 2011™ is certain to be the most attended event in the debt relief industry's history. Unlike most debt related conferences, which tend to be member or vertical specific, Evolution 2011™ is breaking down the barriers between the various debt relief verticals.
Matthew Hearn, Training Director and Managing Partner for MSTARS, says, "This is a critical time for our industry. The debt relief industry has been tainted by the actions of greedy, unscrupulous businessmen that came into the various debt relief markets to make a quick buck. Even the new FTC rules, however hindering they seemed initially, weren't a deal breaker for business owners involved in the industry for the right reasons. They will find a way to make it work, to evolve. Sadly, those rule changes aren't a problem for the bad actors either, who find creative ways to shirk the rules and continue to prey on the weak for profit. They know they can get away with it for now. Despite the challenges, the American people need the help of our industry now more than ever. Credit card debt has not dropped like the banks would have you believe. People are really hurting financially. They need help now more than ever and don't know where to turn. To make matters worse, the industry has turned on itself. We hope to fix that problem with this conference. Evolution 2011™ is a cross-vertical rally point and educational forum that will allow industry veterans from all disciplines to unite and get equipped to continue the fight for the American citizens we serve. The truth is, some people are right for a debt management plan, some are right for bankruptcy, and for many debt settlement is the best option. A skilled debt specialist is trained to thoroughly assess each consumer's unique situation and enroll them into the best option. The industries can't survive if they remain divided and segmented. There is real power in relationships. We need to work together, cohesively, towards one goal, with one purpose. That is where the power will come. Now is that time. Evolution or extinction."
Jenna Keehnen, Executive Director of USOBA, agrees that unity is necessary. "The biggest concept, second only to regulatory compliance, is harmony. Every debt relief vertical has a place and each one can perform their services better if in harmony with the rest of the industry. Opening doors and opportunity for dialogue and improved business practices is a crucial focus for this event."
Laurence Larose, Executive Director of The IAPDA, concurs. "The Evolution 2011 conference allows us an important opportunity to work with and learn from other industry players in a highly cooperative environment and this can only be good for our members and the industry."
Industry Reporting Growth Despite Negative Press
The debt relief industry has taken its share of negative press despite the tens of thousands of consumers that have been helped by the various debt relief programs. Even the Better Business Bureau jumped mindlessly on the "debt relief is a scam" bandwagon, despite its own reported numbers showing that debt collectors, cell phone providers and cable television companies displayed a higher number of complaints. In fact debt settlement was near the bottom of the list for unresolved complaints. When it comes to protecting and alerting consumers to potentially dangerous trends, most watchdog groups sound the alarms without having a means for properly assessing the threat. It's a "better safe than sorry" mentality.
It may not be clear why the media is so blatantly biased against debt relief, but is clear that this industry is experiencing an evolution. Prior to the FTC's changes to their TSR in October 2010, there were a reported 2,100 debt settlement companies. After the change that number dropped to around 850. As of April 1st, 2011, the numbers are now over 1,300 companies and growing. The numbers reflect resurgence and a new momentum within the industry despite the challenges. "Misconceptions abound when discussing the debt relief arena," says Keehnen. "This event will help to peel back the layers of misconception to reveal the common goals of consumer protection and assistance and regulatory compliance."
Evolution 2011™ Sets The Stage With Impressive Speakers
Evolution 2011™ boasts an incredible lineup of speakers and leaders from several aspects of the arena. Evolution has drawn high caliber leaders to its lineup with Michael Mallow and Mike Thurman of Loeb and Loeb, Allison Brown formerly of the Federal Trade Commission, currently with the Bureau of Consumer Financial Protection, Ed Mierzwinski of USPIRG, Mark Guimond, National Policy Group, Michael Kerr, Executive Director of the NCCUSL, Roger Knauf, former director of the DBA, Dr. Ken Gaub, an international speaker and leader, Eddie Reeves of Reeves Strategy Group, Anthony Mangienelo, author of the debt free millionaire, Jenna Keehnen, director of USOBA, Matthew Hearn, Training Director of MSTARS and many more. Beyond the amazing educational facets and business alliance opportunities, Evolution 2011™ also plans to display nearly 60 industry exhibitors with exciting new products and services to enhance and equip your business.
These Industry Pioneers Are Truly Excited About Evolution 2011™
"It is about more than just survival," says Hearn. "This event is going to unite the debt relief industries behind one cause: Helping the American Consumers out of debt."
Keehnen adds, "An event like this is unprecedented and we are proud to take that pioneering step with MSTARS. It is vitally important that all debt relief verticals understand one another in order to better serve consumers."
"We are very proud to be a part of this history making initiative," says Larose. "The Evolution 2011™ conference validates the importance of having knowledge of all debt relief options available to consumers for our certified members participating in the exciting future of consumer debt relief including: Debt Settlement, Credit Counseling, Debt Management Plans and Bankruptcy. We see a growing demand by consumers for complete debt relief expertise from individual consultants and companies in our fast changing industry. Our partnership with the Evolution 2011™ conference is a significant tool in helping our membership to move to the future in the most positive way possible. There will be no better opportunity this year to learn from these industry experts and unite around this common cause." Evolution2011 Debt Relief Conference will be hosted at the fabulous M Resort and Spa in Henderson, Nevada August 21-23, 2011.
CLICK HERE TO WATCH THE EVOLUTION2011 PROMO VIDEO
###