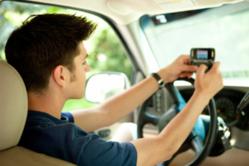 I like leveraging technology to provide a supervisory tool for me, as a parent, and to help all teen drivers make safer decisions, which may ultimately save lives. -Laura (mom & SIPS user)
Minneapolis, MN (PRWEB) May 05, 2011
According to the Centers for Disease Control and Prevention, motor vehicle crashes were the leading cause of death for U.S. teens, with eight teens dying between the age of 16 and 19 every day in 2009 alone. But Minneapolis-based Eye Phone Group, a mobile application development firm focused on practical and innovative tools for consumers and businesses, aims to improve teen safety and accountability while behind the wheel with the launch of its new Safety Information Protection System (SIPS).
As featured on CNN, this new application helps parents monitor the safety of their teen drivers by tracking vehicle location and triggering alerts when teens travel outside of approved boundaries and when vehicle speeds exceed approved limits. Equally important, Parents using the Android SIPS application are automatically contacted if their child is texting while driving.
"Parents with teenage drivers have expressed a need for greater oversight when their children are behind the wheel," explained Nathan Ooley, founder and president of Minneapolis-based Eye Phone Group. "This new application immediately alerts parents should their child wander out of a preapproved area or drive dangerously fast. So parents can better protect their teens and respond in an appropriate and timely manner."
SIPS is currently available for iPhone, iPad 3G and Android devices, with Blackberry-compatible apps available for download in May of 2011. An upgrade in May of 2011 will also allow for cross-platform communication between teen and parent. SIPS may be found on the Android, iTunes and Google marketplace by searching "SIPS Teenage Driver". SIPS consists of two interdependent applications, one for the parent or administrator and another for the child. Each application is downloaded individually to the respective device, supporting different functions while communicating seamlessly with one another.
Eye Phone Group will continue its development of family-friendly applications to offer parents and guardians greater peace-of-mind and to improve the quality of life for families in the United States and abroad. More information on SIPS may be found at http://www.itrackmychild.com.
# # #