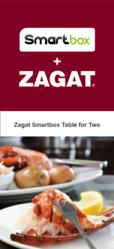 Thanks to the generosity of Smartbox and Fishtail by David Burke, our mothers will share a special Mother's Day experience with their children
(PRWEB) May 03, 2011
Mother's Day is a holiday filled with many years of memories for both children and parents. This Mother's Day weekend, Smartbox and Fishtail by David Burke will make a memory for five families from The Children's Aid Society. Each family will receive a Zagat Smartbox "Table For Two" dining experience at Fishtail by David Burke in New York City on Friday, May 6 at 4:30 PM.
The dining experience will consist of a three-course meal for each mother and child that will include a gourmet entrée along with an appetizer and a delectable dessert choice. At the end of the meal, the Smartbox card will be handed to the server and the meal is paid for. It is a simple and delicious dining experience for anyone to enjoy.
"Some of the most meaningful memories are made sharing time with your mother on Mother's Day," said Smartbox CEO of North America David Meyers. "As the leader in gift experiences, Smartbox looks forward to partnering with our friends at Fishtail by David Burke to deliver the most memorable dining experience for families from The Children's Aid Society."
"Thanks to the generosity of Smartbox and Fishtail by David Burke, our mothers will share a special Mother's Day experience with their children," said Michael Roberts, Associate Division Director, Youth Development Services at The Children's Aid Society. "We hope this memory will be one they cherish and use to build a bridge to a stronger family."
Fishtail by David Burke is celebrated chef David Burke's innovative seafood restaurant on Manhattan's Upper East Side. Located in a historic townhouse, the bi-level eatery combines casual dining in the ground floor oyster bar with traditional sit-down service in the vibrant second floor dining room.
Blurring the lines between chef, artist, entrepreneur and inventor, Burke stands as one of the leading pioneers in American cooking today. His fascination with ingredients and the art of the meal has fueled a career marked by creativity, critical acclaim and the introduction of revolutionary products and cooking techniques. In addition to his flagship restaurant David Burke Townhouse, Burke's other restaurants include David Burke Kitchen (New York, NY), Fishtail (New York, NY), David Burke at Bloomingdale's (New York, NY), David Burke's Primehouse (Chicago, IL), David Burke Fromagerie (Rumson, NJ) and David Burke Prime (Foxwoods Casino, CT).
The Children's Aid Society has been filling the gaps between what children have and what they need to thrive for over 150 years. Children's Aid serves New York's neediest children and their families at more than 45 locations in the five boroughs and Westchester County. The programs begin even before birth, through prenatal counseling and assistance, and continues through the high school years with college and job preparatory training programs. All aspects of a child's development are addressed as he or she grows, from health care to academics to sports and the arts. And because stable children live in stable families, a host of services are available to parents, including housing assistance, domestic violence counseling and health care access.
Already an international gift box leader, Smartbox is available in 20 countries across the world. The key to success has been in the simplicity of the process. Begin by choosing a budget ranging from $49 to $369 and then choose one of the 7 available categories.
The available gift experiences are:

Zagat Smartbox Table for Two – dinner for the recipient and a guest at their choice of any participating Zagat-Rated restaurant in one of the following cities: Chicago, Los Angeles, New York, San Francisco or Washington D.C. ($99)
Gourmet Retreats – a one night stay in lavish accommodations throughout the U.S., sumptuous five-course dinners, in-room massages, and plush king size suites. ($369)
Adrenaline – hundreds of exhilarating activities to choose from, including: climbing a slippery frozen waterfall, racing around a track on a motorcycle and more. ($299)
Charming Getaways – one-night stays in historic homes, rustic ranches or quaint Victorian Inns. ($129)
Serenity – health and wellness treatments from Vichy showers and ice cream pedicures to champagne manicures and lemongrass body scrubs. ($119)
Adventure – an opportunity to rush down an ice tunnel in a bobsled or cruise the sky in an ultralight. ($69)
Fun for All – an activity for two, whether it be an elegant fencing lesson, wine tasting, or a spooky ghost tour. ($49)
For more information on the full Smartbox collection of experience gifts, please visit our website at http://www.smartbox.com/us.
About Smartbox
Smartbox is the next generation of gift cards allowing one to choose from a selection of activities and destinations within a given theme. Smartbox is presented in a gift box featuring a color guidebook with full details of each activity or escape. The recipient selects an experience, makes the reservation directly with the establishment (contact details are provided in the guidebook) and redeems the gift card upon arrival. Currently, Smartbox is available in the Northeast, Mid-Atlantic, Southeast, Great Lakes, Texas & California regions of the U.S.
About Smart&Co
Since its creation, Smart&Co. has grown at an exceptional rate. Having branches in Europe, the U.S., and Canada with its head office near Paris, today it employs more than 1,000 employees. Smart&Co. and its Smartbox gift experiences are specialists in creating interesting trips and leisure activities. Since the founding of the group, more than 5 million Europeans have experienced Smart&Co. In 2004 Smart&Co. was awarded the Oscar for Innovation -- Smart&Co. continues to find new ways of bringing people together for leisure pursuits.
###