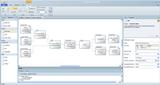 We are excited about this latest release, particularly for the optimum agility it provides, the concepts of constraints/rules, and ability to incorporate complex SQL Select statements.

Lystra McCormack, IT Manager, Western World Insurance Company
Burlington, MA (PRWEB) May 02, 2011
expressor software, a leading provider of free and affordable data integration software, today announced the general availability of expressor Studio 3.2, which features four major enhancements to its free desktop ETL tool:

expressor Studio 3.2 ships with a new, built-in graphical drawing layer for creating expressor dataflows. This important new capability removes Studio's dependency on Microsoft Visio to further simplify the download and install process of the product.
The new SQL Query operator enables users to define SQL queries in expressor Studio and execute them in the source database prior to transforming the data in expressor. By offloading some of the data processing to the source database, users have maximum flexibility to design their applications for versatility and performance.
Constraints extend expressor's Semantic Types capabilities by allowing users to set pattern matching rules or min/max values on individual attributes of a Semantic Type. Records that fail a constraint test at runtime may be captured, directed to a file, database table, or processed further to ameliorate data quality issues.
Operator level error handling is now supported in addition to errors that are captured on Semantic Type constraints. expressor 3.2 users can abort an entire dataflow or redirect the record to a reject file on error.
"expressor software is made up of a team of extraordinary experts, who are dedicated to serving their customers and their successful use of the expressor ETL tool," said Lystra McCormack, IT Manager, Western World Insurance Company. "We recently purchased the expressor data integration software and attended the preview webinar for the 3.2 product. We are excited about this latest release, particularly for the optimum agility it provides, the concepts of constraints/rules, and ability to incorporate complex SQL Select statements. expressor Studio 3.2 is guaranteed to accelerate our development time frame for our tiered data integration projects."
"This release of expressor addresses important usability, data quality and data processing requirements of our rapidly growing expressor Studio developer community," commented Dr. Michael Waclawiczek, VP Marketing, expressor. "We have recently demonstrated the new Studio version to our community users and got a big thumb up on the capabilities of the new release."
This is the third general availability release this year of the expressor version 3 data integration platform. expressor plans to deliver new versions of its data integration platform every two months throughout 2011. expressor will we showcasing this new release in a demo webinar on May 4, 2011, 2pm EDT. 
Availability
expressor Studio 3.2 is available immediately on Windows XP and 7 and can be downloaded for free at http://www.expressorStudio.com.
About expressor software
expressor software knows data integration -- and we know today's most capable data integration tools are too complex and too expensive. Our vision is to provide enterprise-class data integration software that is cost-effective, fast and easy to use.
expressor's game-changing usability enables you to use less technical, lower-cost development resources. Our unique, active metadata foundation simplifies data mapping and transformation to reduce your time-to-value. And our dramatically lower cost makes it easy to justify replacing your brittle and expensive hand-coded implementations or underperforming in-house ETL tools. Version 3 of expressor is a comprehensive design, development and deployment platform tailored to support the full range of data integration applications, from tactical data migrations to data warehouses and predictive analytics.
To learn more about what makes expressor the leader in free and affordable, enterprise-class data integration, visit http://www.expressor-software.com or download the free expressor Studio at http://www.expressorStudio.com.
# # #