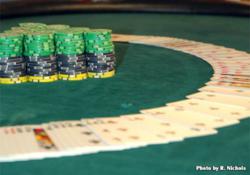 I love supporting Best Buddies and their mission, I've seen the positive value their programs add to the lives of those living with IDD." Glenn Bartels
Marina Del Rey, CA (PRWEB) May 03, 2011
Good Friday was indeed good for seventy-five generous people invited to play in a private charity poker tournament. Kelly Hu, actress and professional poker player, hosted a charity benefit poker tournament for seventy-five friends at Route 66 Modern Classics in Marina Del Rey, CA. http://www.rt66mc.com
The "Buy In" donation was set at $100.00 per person getting each player $2,000 worth of DJ Vegas Poker chips. Players of all skill levels were in attendance surrounding seven Vegas style poker tables, which had been brought into Bartels' Route 66 showroom.
Normally, on a visit to Bartels' eclectic, cycle boutique showroom in Marian Del Rey, CA you would find it packed with Harley-Davidson motorcycles, vintage Vespas and Lambrettas, as well as an array of amazing looking bicycles from Gazelle and Worksman Cycles.
Bartels' Route 66 is truly an adult candy store of fun two-wheeled toys for kids of all ages. "Three of the manufactures of the products we represent are over 100 years old." says Glenn Bartels, Route 66 owner. "Gazelle has been making urban transportation bicycles in the Netherlands for over 120 years, Worksman Cycles started manufacturing bicycles in NYC in 1892, and of course everyone knows Harley-Davidson was born in 1903 in Milwaukee, WI"
Baby Blues BBQ ribs n' chicken donated an abundance of sticky finger delights for the hungry tournament players. Wine, beer, and adult cocktails were poured to liven up the evening.
"You've got to pay the blind to see the flop," says the dealer. Which is Poker-ease for you've got to place your bet to see the first three cards of the river. Spend five minutes on Google or watching The World Series of Poker on cable TV to refine these catch phrases into understandable definitions. Many of the players on April 22nd were novices, while many have been playing for years. All skill levels were represented at the seven tables.
Vegas tournament style Texas Hold'em Poker is a serious game of skill. And many players were competitively out to win the grand prize: a weekend in Las Vegas complete with show tickets, dinner for two, and spa package. "Austin Powers" actor, Vern Troyer, attended for the second year in a row; as well as singer, songwriter and musician Mitch Allan, who played until the chips ran out.
Proceeds from the night's festivities went to Best Buddies International. Started by Anthony Shriver in 1989, Best Buddies has become the worlds largest non-profit organization. Their mission is to provide opportunities, friendship, employment and leadership development for people living with IDD (Intellectual and Developmental Disabilities). With more than 1,500 chapters around the world, Best Buddies positively impacts the lives of 700,000 participants and growing. http://www.bestbuddies.org/
The seventy five players were whittled down to the final two by midnight. No one was able to knock card shark Kelly Hu out of the tournament despite a rather large bounty reward for doing so. Last year's second place winner, Dan Marrow, finally emerged victorious just after midnight.
No one left empty handed - generous Romero Britto Swag Bags were passed to each parting guest, all of who were looking forward to attending next year's event. Second prize was a weekend Harley-Davidson motorcycle rental package donated by Bartels' Route 66.
About Bartels; Glenn Alan Bartels is a Harley guy from birth. A love for motorcycles is in his blood as the Bartels' family of Los Angeles, California has been in the Harley-Davidson industry for over twenty-five years. http://www.bartelsharley.com/ Seeing a need for Harley-Davidson motorcycle rentals, in 1994 at age 27, Glenn Alan took his five personal, custom Harleys to pioneer the Harley-Davidson Rental world.
Today, sixteen years later, Bartels' Route 66 carries over 150 late model Harley's for rent to the public, as well as movie production studios. Their clientele is predominantly European tourists here to become cowboys in the wild, wild, west; as well as local, weekend motorcycle enthusiasts.
Seeing a need for economical "Green" transportation in West L.A., Bartels' has recently expanded beyond the Harley rental world to sell scooters and urban bicycles. "Many of our scooters get between 90-140MPG; and did you know riding a bicycle equates to approximately 900MPG of calorie burning!" explains Bartels. http://www.route66riders.com
# # #