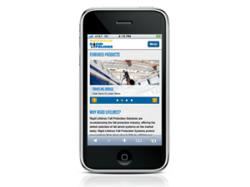 "The days of laptops and 'I'll get back to you with that information' are disappearing."
Morgantown, PA (PRWEB) May 02, 2011
Rigid Lifelines™, the industry leader in rigid rail fall arrest and fall restraint systems and accessories announced today the launch of a new mobile website. The aim of the mobile website is to provide a growing audience of mobile customers with quick access to product information and how to buy Rigid Lifelines fall arrest and fall restraint systems.
"Over the past year we have watched mobile access to our website increase, and the time has come to provide our loyal distributors and end-users with a mobile site that meets their need for convenient access to information anywhere, at any time, through a mobile device," says Michael Evanko, Marketing Manager for Rigid Lifelines. "We designed this site to make doing business with us easy. Engineers and architects are able to access a portal on the site to download AutoCAD files. Then with the use of a mobile application, like AutoCAD WS, they can view AutoCAD files on their mobile device while with their customer on a job site. The days of laptops and 'I'll get back to you with that information' are disappearing. People need information and they need it now. The new Rigid Lifelines website provides that," says Evanko.
The new mobile version of the Rigid Lifelines website is designed to operate on various operating systems, including the popular iPhone OS, Android OS, and Blackberry OS (Version 6+). When visiting the site, visitors are greeted with a page design that is tailored to the smaller screen of their mobile device. The mobile website takes the most popular features of the standard site and simplifies them, making it easy to gather product information, view high resolution product photos, and stream high definition product videos. Individuals visiting the Rigid Lifelines websites on a mobile device will automatically be rerouted to the new mobile site.
About Rigid Lifelines
Rigid Lifelines, a division of the industry leading material handling company, Spanco, Inc., engineers and manufactures overhead fall protection systems that utilize enclosed track with a rolling trolley. The company's innovative approach to fall protection presents a ground breaking alternative to cable fall protection systems, and facilitates decreased fall distance through a rigid design that eliminates deflection during a fall event. Rigid Lifelines has designed and installed over 2000 fall protection systems in the field, and has manufacturing facilities in Morgantown, Pennsylvania, and Las Vegas, Nevada.
# # #