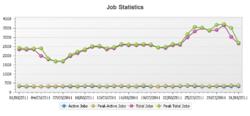 Philadelphia, PA (PRWEB) May 02, 2011
IBM Common Booth 429
Halcyon Software Inc, a world leading provider of systems management solutions, today announced the Advanced Reporting Suite, a new cross-platform reporting solution that supports the IBM i and Windows platforms. Key benefits of the Advanced Reporting Suite include significantly reducing the time it takes for IT administrators to create customer reports, the ability to tailor reports to meet client's specific needs, and a dynamic reporting feature which enables IT administrators to easily demonstrate how they are meeting customer service level agreements so that any issues can be quickly identified and resolved.
Donnie MacColl, Technical Services Director at Halcyon, said, "This new solution is designed for larger corporate data centers, IT outsourcing and managed services companies. There are other enterprise wide, high-end solutions on the market but these are viewed as expensive to purchase, require advanced scripting skills and an in-house expert to maintain and produce reports. For example, one of our customers running a large data center had an IT administrator spending two weeks every month creating reports for all of their clients. We saw the need for a more affordable solution that could automate the majority of the report creation process and eliminate the need for IT staff to manually collect the data from multiple systems and numerous sources."
MacColl continued, "We have also used a unique methodology for managing and reporting on service level agreements, or 'SLAs', allowing companies to quickly identify through 'SLA flags' which aspects of the service level agreement are not being met. This means that these issues can then be investigated with the minimum of delay. This is important, particularly for IT outsourcing companies who need to demonstrate the value of their services to their clients."
The new software consists of two components, The Halcyon Data Warehouse, a central data store, and the Halcyon Report Designer that includes a wizard that makes the creation of customized reports very quick and easy.
IT administrators can edit the reports to incorporate their company logo and dynamically report on percentage performance against service level agreements, capacity planning trends and analysis, processor loading, CPU, memory and disk, SAN utilization, performance response times, resource utilization and other factors that could affect service levels.
Key features include a web front-end, and a browser-based client making it quick to deploy and run the reports. The reports can be published to a web portal so that customers have easy and quick access to the information. The software has nine different output formats including PDF, HTML, CSV, XLS and RTF.
The product is shipped with standard reports that can be customized to meet specific requirements.
On-line training can also be provided by Halcyon to enable data center administrators become expert users.
The new Advanced Reporting Suite can be purchased in combination with Halcyon's monitoring and automation packages for IBM i and Windows. Existing Halcyon customers can upgrade to this technology by purchasing a plug-in module.
A further release of Advanced Reporting Suite will be available Q4 2011, to support the AIX platform.
To learn more customers can visit http://www.halcyonsoftware.com/ar
About Halcyon Software
Halcyon Software is a global leader in multi-platform systems management software. With more than 20 years of delivering proven solutions and first class customer support, Halcyon's products proactively monitor, manage and automate IT operations. Large multi-nationals, corporate and public sector data centers as well as small to medium sized organizations throughout the world rely on Halcyon Software to ensure their mission-critical systems, core applications and services are available 24/7.
Halcyon solutions support IBM enterprise class systems, including the IBM i®, AIX® as well as Windows® and Linux® platforms.
Halcyon Software reduces the complexity of systems monitoring and automation. Solutions deliver real ROI by automating 100 percent of routine tasks to free up valuable resources, reduce operating costs and minimize the risk of human error.
With regional offices in Philadelphia, USA, Peterborough, UK and Melbourne, Australia, Halcyon also has a world-wide network of partners and distributors supporting the Americas, EMEA and Asia Pac territories.
###