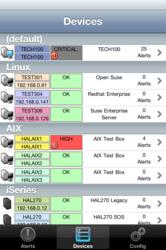 Philadelphia, PA (PRWEB) May 02, 2011
IBM Common Booth 429
Halcyon Software Inc., a world leading provider of systems management solutions, has announced the latest release of its popular graphical user interface (GUI) tool, Enterprise Console v8.7, which allows centralized management for all systems alerts from multiple platforms including IBM i, AIX, Windows and Linux.
Enterprise Console v8.7 enables IT managers and network administrators to manage large numbers of servers – no matter how remote – across different sites or countries from a single location. Alerts generated from servers, applications and SNMP devices, including hubs, routers and switches, can be viewed and managed on a single PC screen.
Through the use of this GUI, all systems and alerts can be color-coded to aid identification on screen – to enable the operator to take appropriate remedial action quickly and according to alert priority.
The Enterprise Console interfaces with all of Halcyon's monitoring suites for IBM i, AIX, Windows and Linux.
New i Phone App
In addition, Halcyon's Enterprise Console can now provide users with a portable view of their whole environment across all platforms. By downloading Halcyon's free application from the Apple App Store, all system alerts, SNMP traps, devices and system statuses can be displayed in real-time on the iPhone, iPod Touch and iPad.
Users can view the mobile version of the Enterprise Console through the Apple devices and have exactly the same functionality as the full version of the software. The key benefit is that IT administrators or operational staff "on the move" now have access to their enterprise and can quickly manage issues or problems remotely. Other new features include the ability to interface with recognized Open Source systems such as Security Information Event Manager (SIEM), Log Amalgamators, IBM Tivoli , HP OpenView, CA Unicenter, BMC Patrol and any Syslog or SNMP compliant system.
In addition, Enterprise Console v8.7 will now support Netport and enhanced SNMP enabling alert notification to a cell phone for all systems and SNMP compliant network devices.
Donnie MacColl, Technical Services Director of Halcyon Software said, "The new enhancements in Enterprise Console v8.7 have been developed as a response to customer requests. We have seen an increasing trend for more solutions to be readily accessible from mobile devices and cell phones, especially from IT support staff who often work remotely and need to constantly improve productivity and efficiency."
MacColl added, "We are committed to supporting other mobile platforms in the future like Android. This new release confirms Halcyon's commitment to providing functionality that really contributes to the way companies wish to run their operations."
Price and availability
Enterprise Console v8.7 is included with any of Halcyon's monitoring and automation suites for the IBM i, AIX and Windows platforms. Halcyon's IBM i software suites are tier priced by IBM processor group.
For more information about the free iPhone app or for an on-line demonstration of Enterprise Console v8.7 visit: http://www.halcyonsoftware.com/products/enterpriseconsole/index.html
About Halcyon Software
Halcyon Software is a global leader in multi-platform systems management software. With more than 20 years of delivering proven solutions and first class customer support, Halcyon's products proactively monitor, manage and automate IT operations. Large multi-nationals, corporate and public sector data centers as well as small to medium sized organizations throughout the world rely on Halcyon Software to ensure their mission-critical systems, core applications and services are available 24/7.
Halcyon solutions support IBM enterprise class systems, including the IBM i®, AIX® as well as Windows®, and Linux® platforms.
Halcyon Software reduces the complexity of systems monitoring and automation. Solutions deliver real ROI by automating 100 percent of routine tasks to free up valuable resources, reduce operating costs and minimize the risk of human error.
With regional offices in Philadelphia, USA, Peterborough, UK and Melbourne, Australia, Halcyon also has a world-wide network of partners and distributors supporting the Americas, EMEA and Asia Pac territories.
###