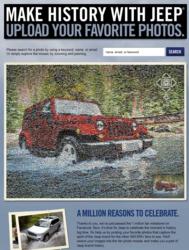 We are really excited about our new interactive mosaic 4.0 platform, it was a perfect fit for Jeep's Facebook page and fans.
Blue Bell, PA (PRWEB) May 01, 2011
To celebrate their one millionth Facebook fan, Jeep® invited their devoted fans to submit their favorite Jeep® photo along with a caption. With the help of Picture Mosaics LLC these photos are used to create a continually updating interactive photo mosaic. Fans can show their Jeep® pride by submitting a photo into the interactive Facebook Jeep® Mosaic: http://www.facebook.com/jeep?sk=app_204242762924518
Once launched it was clear that fans were really excited about the photo mosaic as in its first 2 weeks over 10,000 photos were uploaded. Hundreds of photos continue to be submitted each week and are added to the photo mosaic (after moderation).
The photo mosaic takes advantage of many of Picture Mosaics' new 4.0 interactive platform which includes full Facebook integration. Additionally, the photo mosaic included the following features: (1) Streamlined photo submission with Facebook album selecting, with a built in online cropping, (2) Dynamic in-mosaic photo tour for search and external links, (3) Animated tunneling to a specific photo on searches and external links, (4) Direct photo sharing with photos within the mosaic on Facebook and Twitter, and (5) Photo moderation and review per Jeep® guidelines, Expanding photo mosaic grid.
"We are really excited about our new interactive mosaic 4.0 platform, it was a perfect fit for Jeep's Facebook page and fans," stated Al Charpentier, the lead architect at Picture Mosaics on a quick interview about the project. He further explained, "Our new platform pushes social networking and mosaics to the next level; we have several really cool interactive mosaics launching soon that take advantage of all our new features - stay tuned!"
Picture Mosaics has developed many social and interactive online mosaics for other groups including Disney, eHarmony, Dunkin Donuts, Pedigree, Pampers, and the Boys and Girls Club of America. Be sure to check out all of their latest interactive mosaics: http://www.picturemosaics.com/online
About Picture Mosaics LLC:
Their mission statement is simple: to provide an industry leading solution to create the very best photo mosaics in all print and multimedia genres. To achieve this, Picture Mosaics has engineered (and continues to engineer) the most advanced software and design techniques for their digital artist to build photo mosaics that are both a technical and artistic marvel. A goal with every project is to achieve that ever desirable "wow" factor. Furthermore, Picture Mosaics strongly feels that the creation of a photo mosaic is true art form and not just results of computer yielding a mathematical result. From a framed masterpiece or wall mural, a gift, a breathtaking poster, a challenging mosaic puzzle, a stunning inMotion video mosaic, or even a fully interactive online digital mosaic experience, Picture Mosaics is pushing the bounds of what is possible.
# # #