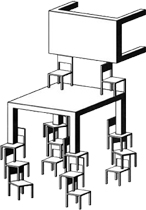 The seminar will explore the newest and best practices in design thinking, applied creativity and strategic innovation and planning.
New York City, NY (PRWEB) May 03, 2011
For Business Executives and Designers alike, "design thinking" is a powerful way to imagine and create new products, services, strategies and business models. Strategic innovation and experience design firm, Idea Couture, together with the Harvard Graduate School of Design Executive Education, launch the first in a series of Design Thinking and Business Innovation seminars held at the Harvard Club of NY. The full day seminar that will take place on May 24, will introduce participants to the cognitive processes used in design and demonstrate how to identify problems, gather insights, envision solutions and create new business opportunities.
The need for 21st Century mindsets and protocols has sparked unprecedented interest in "design thinking," a human-centered, prototype-powered and foresight-driven process that generates new ideas as effectively for products and services, as it does for business models and strategies. Traditional skills are making way for the techniques and cognitive processes of design to help solve complex business problems. Through real-world examples, the seminar will explore the newest and best practices in design thinking, applied creativity and strategic innovation and planning. The aim is to enable participants to connect with their own creativity, to generate original ideas and to convert those ideas into innovative products, services and strategies.
The seminar will be led Idris Mootee, an international authority on strategic innovation and applied design thinking and the CEO of Idea Couture. Guest speaker, Scott Pobiner, is the former Director of the Design and Management Program at Parsons the New School for Design.
This first in a series of real-word innovation seminars between Idea Couture and Harvard GSD Executive Education marks an inspiring and groundbreaking collaboration between leading business and design professionals across industries and sectors.
About Harvard School Graduate School of Design executive Education
The Office of Executive Education at Harvard University Graduate School of Design (GSD) is the foremost provider of Executive Education programs for architects, planners, and real estate and building industry professionals. GSD Executive Education offers an extensive menu of programs that covers topics in design and real estate as well as customized programs that can be tailored to an organization's or firm's specific learning needs. Drawing upon the unparalleled resources of Harvard University, GSD Executive Education programs are led by renowned faculty from the GSD, the Business School, the Law School and the Kennedy School of Government, as well as eminent practitioners and scholars from across the country and around the world. For more information, visit http://execed.gsd.harvard.edu
About Idea Couture
Idea Couture is a global strategic innovation firm that combines the power of Design-School and Business-School thinking to solve complex business issues. Based on in-depth anthropological insights, strategic foresights, white space mapping and rigorous analysis of clients' industries' dynamic, Idea Couture uncovers opportunities for strategic innovation and turn them into growth strategy. Since 2007, Idea Couture has worked with companies worldwide including Pepsi, Kraft, LG, AARP, UHG, TD, Astrazeneca, Recyclebank and Deloitte. Idea Couture has offices in San Francisco, Toronto, Washington DC and Shanghai.
###