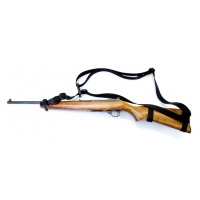 The Ruger 10/22 has long been one of America's favorite rifles. Our new Giles Sling now allows for a practical sling application while increasing the overall enjoyment of use
Phoenix, AZ (PRWEB) May 02, 2011
Always looking ahead and aiming to expand functionality of existing technologies, the brains behind Wilderness Tactical Products has introduced a new spin on an old favorite which is sure to make firing your favorite .22 caliber rifle much more enjoyable.
Recognizing the fact that no previous slings existed for the Ruger 10/22, Wilderness again set out to fill a void in the marketplace. The new Giles Sling for the Ruger 10/22 was designed in collaboration between famed instructor, Giles Stock and the founder of Wilderness Tactical Products, LLC, Ralph Holzhaus to securely fit the 10/22 with the classic factory wood stock featuring a front barrel band and alloy butt plate.
Manufactured using durable 1- ¼" sling webbing, reinforced Delrin buckles on the sling body and bombproof sewing throughout, the new Giles Sling for Ruger 10/22 is made to withstand everything you can throw at it—and more.
Taking it even further, the designers implemented the ability to securely store extra rounds by integrating a G.O. Pack magazine carrier into the sling itself. This ingenious idea allows the user to easily carry up to two J-Frame Speedloader Carriers on the butt stock which are easily adjustable to fit 10/22 magazines.
Holzhaus commented, "The Ruger 10/22 has long been one of America's favorite rifles. Our new Giles Sling now allows for a practical sling application while increasing the overall enjoyment of use."
With every branded product proudly manufactured in the USA, Wilderness Tactical Products' complete line of tactical equipment can be viewed and purchased online at http://www.TheWilderness.com
About Wilderness Tactical Products:
Wilderness Tactical Products, L.L.C. was founded in 1981 to fill the needs of people who demanded durable, high-quality tactical equipment. Their products have been tested from the icy mountain peaks of South America to the blistering Sonoran desert for nearly 30 years and they have proven themselves time and again. Wilderness Tactical Products' branded products have consistently been favorites of serious outdoors people, mountain climbers, search and rescue, American Pistol Institute and Gunsite personnel, as well as armed military, intelligence, police, instruction and civilian professionals around the world. For additional information please call 1-800-775-5650 or visit http://www.TheWilderness.com
Business contact:
Joan Holzhaus
602-242-4945
Media contact:
Jason Jantzen
Phoenix Marketing Associates
http://www.phoenixmarketingassociates.com
602-282-0202
###