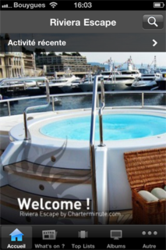 Bienvenue sur la Côte d'Azur !
Antibes, South of France (PRWEB) May 03, 2011
Charterminute, one of the most innovative Mediterranean yacht charter companies with base in Antibes - the superyacht capital – is pleased to release its first iPhone/Android App « Riviera Escape ».
«Until now, there was no app for charterer, boater and yacht lover.
With the Riviera Escape app, you can browse your favorite destination guide and take advantage of superb luxury packages (all inclusive day charter packages to St Tropez, Cannes and Monaco, prestigious classic sailing races, Mangusta Run...).
Users can explore our Connoisseur guide, or browse our French Riviera beach selection to find the perfect spot» says Charterminute Manager Remi van der Deure.
The Riviera Escape app provides local content - Riviera People & Trends, latest openings, new venues and must-see locations, insider tips, warning, crazy summer gadget - as well as exclusive Top Lists selection.
«The Top Yacht List lets users search for a selection of crewed motor yachts and sailing yachts ranging from 15 to 45m whereas the Top Beach List reviews the best French Riviera beaches in detail: beach amenities, things to do and to see, nearby restaurant...» adds Remi van der Deure.
The growing Connoisseur guide comes with ratings, genuine reviews and image galleries, and covers some of the most interesting local gourmet shops in the area between St Tropez and Monaco.
Other interesting features include day and week yacht charter suggestions, yacht charter specials, unbiased advice, a French Riviera events directory, an exotic book selection, and inspiring photo albums and video of Antibes, Cannes, Esterel, Monaco...
In addition, the app offers usefull social media functions allowing users to update the guide with their own ratings, reviews, bookmark pages and send a page to a friend.
For a better Riviera experience, the app is complimented by two mobile friendly websites :
Download free French Riviera PDF guides : http://riviera-escape.com
Access to the best French Riviera day charter deals : http://day-charter.fr
Available on the App store: http://itunes.apple.com/app/riviera-escape/id422197212?mt=8
Available on the Android Market: https://market.android.com/details?id=com.mobileroadie.app_1195
No banner or annoying pop-up ad
More than 250 exclusive photos and yacht video
Riviera Escape is available in English
Internet connection required, Wi-fi recommended
Contact info(at)riviera-escape.com for more information
On Twitter: @RivieraEscape and @daycharter
###