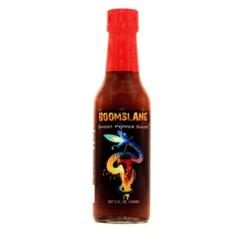 "The business world is just as cut-throat as boomslangs, so thicken your skin and don't get eaten alive."
Sudbury, MA (PRWEB) May 03, 2011
The illustrators quickly learned that Africa is a hotbed of extremely deadly snakes and boomslangs are highly poisonous snakes with needle sharp fangs large enough to inspire awe in some and fear in others.
The name Boomslang inspired Ashley because one small bite by a boomslang can be lethal. Ashley Food Company, Inc. is famous for its highly combustible hot sauces. The combination of ghost peppers, peri peri, jalapeno and chili extract gives Boomslang the effect of a snake bite. Those who have tasted it describe the sensation as liquid fire.
Seasoned Inspiration
With 26 other sauces on the market, this chief marketing officer and alchemist put the students to the test. He gave them 30 days to come up with a design that would knock his socks off. "The art of creating a hot sauce is more than great taste," Ashley said. "A sense of humor, catchy names and labels that jump off the shelves are other key ingredients."
The Value of Feedback
As part of the competition, Ashley gave students feedback on their original designs. Those who listened to his feedback had a better chance of delivering a final image that captured the essence of this multidimensional hot sauce. The winner, Indigo Moorhead, did just that and came out on top.
First to Market Advantage
Ashley Food Company, Inc. got into the spicy foods business twenty years ago by being the first to introduce the African peri peri pepper to the hot sauce industry. Indigo Moorhead produced his first commercial work of art by applying his skills to "real world" new product development. Being first to market earned this illustrator $250 and a lesson in entrepreneurship.
Ashley shares some final advice, "The business world is just as cut-throat as boomslangs, so thicken your skin and don't get eaten alive."
Dose of Reality
Professor Bob Maloney of the Massachusetts College of Art and Design thanked Ashley for giving his students a dose of reality. "This real life assignment took things up a notch for the class. The students delivered dynamite pieces across the board. David's feedback during critiques was invaluable. So was his story of being a successful entrepreneur who has been able to follow his dreams doing what he loves."
To order Boomslang, visit Ashley Food Company, Inc. or call 1-800-61-SAUCE.
Also available World Wide from Hot Shots
###