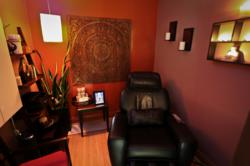 Our Exclusive ZenLounge is the first of it's kind in the Los Angeles area and is a game-changer in the field of modern dental offices.
Los Angeles, CA (PRWEB) May 02, 2011
In celebration of their 7-year anniversary, Los Angeles Dentist Dr. Jay Khorsandi at ZenDental, is pleased to announce a number of exciting new additions to thier office. Widely considered to be the, "Experts in Relaxation Dentistry," ZenDental has transformed the typical dental visit from the dreadful to the decadent. ZenDental is proud to introduce their exclusive ZenLounge featuring one of the most advanced massage chairs currently in the market. The exclusive ZenLounge is the first of it's kind in the Los Angeles area and is a game-changer in the field of modern dental offices. Dr. Khorsandi has dedicated an entire room that has been specifically designed to allow the patients an ability to escape and unwind from all the stresses of the day without having to book a costly and time-consuming appointment at a day spa.
The exclusive ZenLounge features the elite-series Human Touch AcuTouch 9500 premier massage chair that incorporates heat, full back and foot massage that will make all worries, tensions and stress melt away. This chair was specifically chosen by Dr. Jay Khorsandi to offer the best relaxation and therapeutic effect and was discoverd after searching the market for almost a year to find the perfect solution for his patients. In addition to the massage chair, the ZenLounge features aromatherapy, filtered air, humidity controlled environment, LED color light therapy, running water elements and an amazing Zen soundtrack.
ZenDental now also offers complimentary use of iPads before, during and after patient appointments. With these amazing devices, patients have the ability to watch a TV show or movie via Netflix or listen to a custom soundtrack based on their preferences via Pandora. ZenDental can also provide noise-cancelling headphones and iPods to ensure that the patient doesn't need to hear anything they don't want to hear.
ZenDental is continually searching for ways to enhance their ability to communicate with their patients and are proud and excited to announce their very own iPhone App: ZenDental Mobile. ZenDental Mobile App is free and available now for download via iTunes and the App Store here. With this App, patients can use a number of features including a handy brush timer to control the amount of time spent brushing. They can also send pictures of anything they want to share, or ask a question via the "Send Us a Picture" function. Patients are also encouraged to read the office Yelp reviews here and follow the ZenDental blog and announcements for the most up-to-date information regarding the office.
ZenDental is honored to have been able to serve the Los Angeles community for the last 7 years and continues to provide the excellent service that they have been known for as well as a relaxing alternative to the traditional dental office. For more information about the office you can reach ZenDental at (213) 623-1129, or info(at)zendental(dot)com or via the web at http://www.zendental.com
###