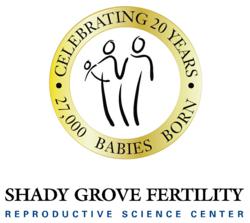 Rockville, MD (PRWEB) May 02, 2011
Shady Grove Fertility Center is proud to announce its newest full-service office is now open in Waldorf, MD. Board-Certified Reproductive Endocrinologists Simon Kipersztok, MD and Jeffery McKeeby, MD will provide infertility patients with a full range of state-of–the-art diagnostic and treatment options for female and male infertility. Shady Grove Fertility has been serving patients in Southern Maryland on a part-time basis since 2008. Shady Grove Fertility now operates 13 full-service offices and three satellite locations throughout the Maryland, Virginia and Washington, DC areas.
"We began to realize an increasing number of our patients live in and around Charles County and that they had to travel significant distances for fertility treatment," said Dr. Kipersztok, Reproductive Endocrinologist. "For some couples experiencing infertility, this travel made seeking treatment prohibitive. We are very excited to be able to offer a convenient location for patients in the area."
Lori Ennis, a Charles County resident, traveled to the Annapolis office for her fertility treatment. Lori tried unsuccessfully for 10 years to have a baby before meeting Dr. Kipersztok and Shady Grove Fertility. Lori delivered a healthy son in January.
"Luke was worth everything we went through, and he is the joy of our lives, but I have to admit, it would have been so much easier if the fertility treatment had been offered closer to home," said Ennis. "This new Waldorf office will now offer local couples easy and convenient access to the very latest in fertility and IVF treatment."
"There are now fertility treatments to help almost everyone conceive, including a range of low-tech and high-tech options such as Clomid, intrauterine insemination (IUI), in vitro fertilization (IVF), and donor egg, " Dr. Kiperstock explains. "These treatments are very effective in overcoming most diagnoses such as annovulation, Polycystic Ovarian Syndrome (PCOS), blocked fallopian tubes, unexplained infertility, recurrent miscarriages or male factor infertility, to name only a few."
New patient appointments can be scheduled by calling Shady Grove Fertility's New Patient Center at 1-888-761-1967.
Shady Grove Fertility's new Waldorf office is located at 3010 Crain Highway, Suite 201, Waldorf, MD, 20601. More information can be found at http://www.shadygrovefertility.com/officelocation/waldorf.
About Shady Grove Fertility
Shady Grove Fertility Center is the largest and one of the most progressive fertility and IVF Centers in the United States, producing pregnancy success rates that are consistently higher than the national averages. Twenty-three reproductive endocrinologists, as well as PhD scientists, geneticist, and over 400 highly specialized staff care for the thousands of local, national and international patients who seek treatment through the Center each year. Shady Grove Fertility conducts clinical research in collaboration with the National Institutes of Health and is part of their subspecialty training Fellowship in Reproductive Endocrinology. In addition to participating with 22 insurance plans, Shady Grove Fertility has innovated a number of treatment and financial programs, such as Shared Risk 100% Refund Program, Multi-Cycle Discount Option for IVF, Shared Donor Egg, International Donor Egg, and Shared Help, to make treatment more affordable for more couples. Shady Grove Fertility is Celebrating 20 Years and 27,000 Babies Born. Shady Grove Fertility is a member of the Attain Fertility Network.
Become a fan of Shady Grove Fertility's Facebook page and follow our blog Insiders Guide To Fertility.
# # #