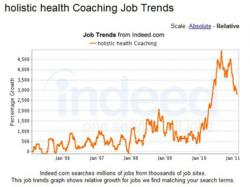 Coaching is not difficult. It doesn't take years of experience or an advanced degree to become a successful coach. What it really takes is a genuine desire to help other people.
(PRWEB) May 01, 2011
Because coaching can be most effective in times of change, these uncertain times are ripe for the coaching industry. Many people are reinventing themselves after a layoff, supplementing their income, or adding to their retirement savings by harnessing their knowledge and experience in order to mentor others. Similarly, businesses are widely employing coaching to help employees who are shouldering more responsibility as companies are streamlined, and mentor those candidates who exhibit the highest potential as future leaders.
When averaging the job growth of thirty different coaching niches reported by Indeed.com, the number one job site worldwide with over forty million unique visitors and one billion job searches per month, the number of coaching jobs has increased an average of 419% in the last five years, as compared to an average of 39.5% across all other industries. Some of the highest growth was seen in Holistic Health Coaching, which increased 3,000%, Athlete Coaching, which increased 1,000%, and Spiritual and Recovery Coaching, which grew 700% and 650%, respectively.
Coaching is also burgeoning as an extremely successful tool in the corporate world. In a survey conducted by the American Marketing Association in 2008, 60% of companies in North America reported coaching high potential employees, and 42% reported using executive coaching. According to the Hay Group, 21-40% of Fortune 500 companies, including IBM, Merrill Lynch, Motorola, and Hewlett-Packard, use coaching extensively. Furthermore, the Manchester Group reports a 5:1 ROI when measuring coaching's success. Worldwide, the coaching business generates approximately $1.5 billion annually.
Barbara Wainwright, President and Co-Founder of Fowler Wainwright International Institute of Professional Coaching, attributes coaching's current popularity to the fact that "…..so many people these days are in flux and confused. They are hungry for an objective voice to guide them; someone who is committed to their success and can lend them their unwavering support. Meanwhile, there are many, many talented people who are passionate about helping others, have had their own successes, and have a wealth of wisdom and experience they want to share."
Fowler Wainwright's Chairman and Co-Founder, Berry Fowler, adds that coaching can be a lucrative profession and offers the advantage of affording a flexible life style. "Full-time professional coaches earn an average of $82,671 per year; $26,150 if they work part-time. You can save office rent and work out of your home, if you choose to. You can work face-to-face with a client, or by computer and telephone; one-on-one, or in a group. The choice is yours."
A Powerful Easy-To-Learn Life Coaching System
Fowler Wainwright International (FWI) was founded in November of 2008 by Berry Fowler, founder and former Chairman of Sylvan Learning Centers and The Little Gym, and Barbara Wainwright, Certified Master Coach. Affordable tuition, a proven coaching system, and live online classes have allowed FWI to become a global leader in professional coach training and certification. The institute has graduated over 2,800 coaches to date, and teaches its students to use a powerful, effective, flexible and results-driven coaching system that Berry Fowler has used for over thirty five years. Graduates master the tools and techniques to provide professional coaching to their clients in a variety of specialties, ranging from general life coaching and business coaching to numerous sub-specialties like weight loss, spiritual, recovery, and career coaching, etc.
# # #