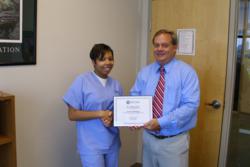 Atlanta, GA (PRWEB) May 03, 2011
A student attending Anthem College—Atlanta has been awarded the Imagine America LDRSHIP Award given each year to ten student veterans enrolled in career colleges.
Lauren Santiago, who is pursuing an Associate of Science degree in Surgical Technology, was selected "for her impressive military record and excellent grades," according to the award letter sent to Anthem College.
"Lauren is a wonderful student who displays the same hard work and dedication in the classroom as she did in her service to this country," says Steven Temple, President of Anthem College—Atlanta. "I have every confidence that she will be successful in any endeavor she undertakes. Congratulations to her on a well-deserved honor."
"It is a true and valuable blessing to have received this leadership award," Santiago says. "I am elated that my military service and academic accomplishments have been recognized and grateful that I was selected."
Santiago, who served four years in the Navy, was honorably discharged in in February 2006 as a Seaman.
The Imagine American Foundation gives the LDRSHIP award to students who are active duty, reservist, or honorably discharged from the military and who have maintained a 3.5 grade point average while in school. Students must also post an attendance record of 95% or better.
The award includes a cash grant applied toward tuition.
Anthem College offers Active, Reserve and Veteran military personnel the opportunity to get a quality education at a local campus. Learn more at http://anthem.edu/military/. Military personnel or veterans interested in online learning should visit http://anthemcollege.edu/military/.
About Anthem College—Atlanta
Originally established in 1988, Anthem College—Atlanta is part of Anthem Education Group (AEG) is a Phoenix, Arizona-based family of schools and colleges that provides career-focused training and education programs at 23 accredited institutions in 15 states as well as online. The AEG family of schools includes Anthem College, Anthem College Online, Anthem Career College, Anthem Institute, Morrison University, and The Bryman School of Arizona. For more information, visit http://anthem.edu.
###