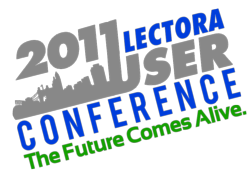 We are breaking the mold again with our innovative iPhone app that provides attendees with everything they could possibly need for the 2011 Lectora User Conference
Cincinnati, OH (PRWEB) May 06, 2011
The Lectora User Conference proves its innovative eLearning edge with the release of the 2011 Lectora User Conference iPhone Application now available for download in the iTunes Store. This free, multipurpose application, named "LUC 2011," provides attendees with easy and instant access to Lectora User Conference essentials.
"We are breaking the mold again with our innovative iPhone app that provides attendees with everything they could possibly need for the 2011 Lectora User Conference," says Peter Bray, Chief Marketing Officer at Trivantis Corporation. "We also included some really cool ways for attendees to network and engage with one another and even the world, all in one place."
This multipurpose application delivers instant interactivity at your fingertips. Receive push messaging for Lectora User Conference updates, news, and alerts. Network and share with the world on Facebook, Twitter, LinkedIn, and Tumblr. Take pictures right from the application to share instantly on the best social sites and even "bump" devices to share vCard contact information for a more personal touch.
Access the full 2011 Lectora User Conference Schedule, special announcements, and speaker directory. Tap into the METS Center map, directions, and the hottest local restaurants, entertainment, and attractions. Explore what makes Cincinnati the Queen City and even check out the weather forecast for the day.
To download this free and easy-to-use mobile app, visit the iTunes Store on your iPhone and search for "LUC 2011." Simply press the icon, quickly install, and explore!
The 2011 Lectora User Conference, May 10-12, provides a place to learn, exchange ideas, ask questions, and network with other users of Lectora, award-winning eLearning authoring tool. Internationally recognized Elliott Masie and NKU Chief Information Officer, Tim Ferguson, provide their innovative Keynote presentations for the future of eLearning.
About Trivantis Corporation
Trivantis Corporation produces Lectora, the world's leading e-Learning software, used by most Global 2000 companies. Lectora is sold in over 70 countries and is offered in six languages. Trivantis Corporation also develops CourseMill learning management system and provides Custom Development Services. Headquartered in Cincinnati, Ohio, Trivantis Corporation also has offices in Boca Raton, Paris, London and Beijing. Website: http://www.Trivantis.com. Trivantis, Lectora and CourseMill are trademarks of Trivantis Corporation.
Facebook: facebook.com/Trivantis
Twitter: twitter.com/lectora
RSS: feeds.feedburner.com/TrivantisBlogs
# # #