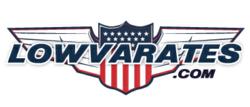 The loan officers at LowVARates have always been some of the best in the VA industry.
Lehi, UT (PRWEB) May 02, 2011
Flagship Financial received an honorable award in the mortgage community as the 2010 top VA loan producer in the nation.
According to the Scotsman Guide, the top loan officers at Flagship Financial were ranked #1, #2, #9, #11, #12, #15 and #16 in the nation in VA loan volume. Flagship Financial placed seven loan officers in the top 16 spots in the VA volume rankings comprising nearly half the nation's top VA loan officers.
In the Scotsman Guide rankings for Top VA Volume, one of Flagship Financial's branches, LowVARates.com, placed three loan officers in the top 12 rankings.
The three LowVARates.com loan officers given the prestigious award were: Nathan Burt (#2), Eric Jorgensen (#11) and Jake Peterson (#12). Each of the loan officers had over $20 million of VA volume helping hundreds of military families with their hard earned VA loan benefits.
Owner of LowVARates.com, Eric Kandell, is grateful for his loan officers and knows that many of the nation's best VA loan officers work for LowVARates.
"The loan officers at LowVARates have always been some of the best in the VA industry," Kandell said. "They are very knowledgeable and always provide outstanding customer service."
LowVARates.com has provided VA home loans for over 20 years to veteran and military home owners. Year after year the company produces many of the best and highest producing VA loan officers in the nation.
The Scotsman Guide also awarded Flagship Financial as a Verified Top Producer for 2010. Flagship Financial and LowVARates.com have helped thousands of veterans nationwide save money when purchasing their dream home or refinancing their existing home loan.
With a good start to 2011, Flagship Financial and LowVARates.com loan officers are looking to be back on top of the Scotsman Guide VA industry awards.
"Our loan officers have continued to work hard in 2011 and we are constantly improving everyday at LowVARates.com," Kandell said. "The VA industry is fun because we love taking care of the men and women of the U.S. Armed Forces."
The Scotsman Guide has been serving the mortgage industry since 1985 and provides rankings based on eight different categories including awards for conventional, FHA and VA home loans.
This is the second year that Scotsman Guide has provided rankings for the nation's top producing mortgage professionals. In 2010, with interest rates fluctuating and tough economic circumstances, many mortgage lenders were unable to fight their way through the ups and downs.
"With a tough economy it was nice to be able to have a great year in 2010 and really shows what kind of company we are," Kandell said. "It's really an honor to be listed as one of the Top VA providers in the Scotsman Guide."
Follow the link to view the Scotsman Guide Top VA volume rankings: http://www.scotsmanguide.com/TO/2010/va_volume.asp
ABOUT LOWVARATES.COM
For the past 20 years LowVARates.com has been dedicated to serving veteran homeowners. We specialize in providing VA loans to qualified veterans for mortgage purchases and refinances. These loans provide lower interest rates and monthly payments than other traditional loans.
VA loans are currently the only program left that allows no-money-down loans providing a secure mortgage option guaranteed by the Federal Government. Our professional staff and loan officers will assist you to lock in low interest rates and take advantage of the unique opportunity provided through VA loans.
ABOUT FLAGSHIP FINANCIAL
Flagship Financial Group is a leading provider of VA Home Loans nationwide. A HUD Approved Direct Lender to originate government loans including FHA, VA, Rural and Reverse Mortgages. For more information, visit http://www.FlagshipFinancialGroup.com.
# # #