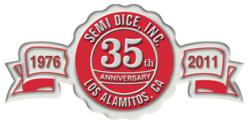 With Cree's quality silicon carbide power products and Semi Dice's ability to get silicon into the hands of bare dies users, it is an unbeatable partnership.
(PRWEB) May 01, 2011
Semi Dice, Inc., industry leading wafer and bare die supplier and Cree, Inc. market leader in silicon carbide (SiC) semiconductor components announces worldwide distribution agreement for SiC bare die power products.
Cree is the world's leading manufacturer of silicon carbide-based diodes and switches for power control and conversion. These devices provide increased efficiency and enable higher switching frequency to minimize system size, weight and cost.
Cree's family if Z-Rec™ and Zero Recovery® rectifiers has essentially no reverse recovery at 600V, 650V, 1200V and 1700V breakdown and is targeted for applications where low switching loss is required.
Additional features include:

Extremely fast switching
Temperature-independent switching behavior
Positive temperature coefficient on forward voltage
High frequency operation
Semi Dice has stock available on the following Cree power products with current ratings of:

1A, 2A, 3A, 4A, 6A 8A, 10A at 600V
5A, 10A, 50A at 1200V
10A & 25A at 1700V
Contact your Semi Dice salesperson today to receive product spec sheets, samples, pricing and delivery information. Call (800) 345-6633 or visit http://www.semidice.com.
# # #