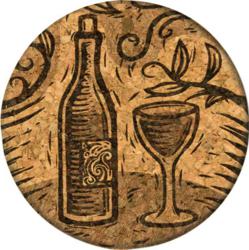 Gift and souvenir shops are already seeing success with GrafixMat. Consumers love using them each and every day with their coffee, tea, wine and beverages. Plus, they make great conversation pieces!
Hungtington Beach, CA (PRWEB) May 03, 2011
The Walton Company, a leading innovator and manufacturer of Made in the USA cork products, is pleased to announce the expansion of its GrafixMat® line of high-art quality laser engraved coasters.
"We couldn't be more excited about our rapidly growing line of GrafixMat® products and already have hundreds of our clients reporting excellent product movement," said Don Walton, Founder & President of the The Walton Company.
Ideal for souvenir shops, wineries, resorts, hotels, bed & breakfasts/country inns, country clubs, museum & zoo gift shops, promotional items and more, the artistic coasters are made with top-quality cork and designs engraved using a revolutionary, full-bleed process.
GrafixMat® Features:

Certified Green, Eco-Friendly
Hand-Crafted in the USA
Sold singly or in sets
Natural, Attractive and Functional
Artfully Designed and Backed with Durable Wood Composite
Custom designs can be printed to fit any organization
More than 500 Designs in 21 Collections
Inclusive of an Award-Winning Merchandising
System (Free with Qualifying Opening Orders)
The Walton Company currently offers a wide variety of collections including Animals & Wildlife, Coast to Coast, Garden and Floral, Artists, American Spirit, Indian Nations, Celtic, Folk Art, Lighthouses of North America and more. Each coaster is masterfully laser-engraved on the cork front and includes a unique and amusing story colorfully illustrated on its flip-side.
To order GrafixMat® for your retail store please contact Tracey Cole at tcole(at)protectomat(dot)com or call their offices at 800-900-MATS (6287). Also, visit http://www.grafixmat.com for more information and to view their full line of products.
About The Walton Company
The Walton Company was established in l958 and is the proud innovator of ProtectoMat® The Original Laminated Cork Mat, and GrafixMat ®, Laser Engraved Cork coasters. With a strong history in engineering and design, we offer the highest quality products at affordable prices. With an emphasis on environmental responsibility, we manufacture all products and custom display fixtures in our facility in Huntington Beach, California.
###