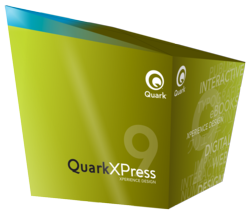 Denver, CO (PRWEB) May 02, 2011
Quark announced today the QuarkXPress® 9 Teacher-Try-It Program, an exclusive chance for teachers in North America to receive a complimentary copy of the newest version of QuarkXPress. The program, which is running from May 1, 2011 to November 1, 2011, aims to help teachers in K-12 and higher education institutions gain experience with QuarkXPress 9 in order to prepare students for the emerging need for skills in cross-media design and publishing.
With many free tutorial options available, QuarkXPress 9 is easy to learn and perfect for teachers and students creating newsletters, books, magazines, newspapers, posters, presentations, and much more. The most recent version of QuarkXPress to be released, QuarkXPress 9 also allows users to create content that can be published to digital devices — e-readers, smartphones, and tablets — with one tool, and without coding.
The Teacher-Try-It program is open to K-12 and higher education educators at accredited institutions in the United States and Canada who teach classes in graphic design, digital media, print media, journalism, imaging arts, interactive media, interactive arts and development, new media, as well as other study areas that can be submitted to Quark for consideration.
To learn more about the program and sign up to participate, visit http://www.quark.com/Products/QuarkXPress/Programs/Education/Teacher_Try_It.aspx or contact Quark Education at edusales(at)quark(dot)com.
To learn more about QuarkXPress 9 or to view online training videos, please visit:
-- QuarkXPress 9 overview: http://www.quark.com/Products/QuarkXPress/
-- QuarkXPress 9 training videos: http://www.quark.com/Products/QuarkXPress/Quark_Training
-- QuarkXPress 9 YouTube channel: http://www.youtube.com/quarkxpress9
-- Quark eSeminars about QuarkXPress 9: http://www.quark.com/About_Quark/Events/OnDemandSearch.aspx
-- QuarkXPress 9 launch event: http://godigitalnow.quark.com
Education Pricing
The retail price of QuarkXPress 9 is $799 for full product or $299 for an upgrade from versions 7 and 8. Students, teachers, and faculty are eligible for special education pricing of $199 for full product and upgrades and students graduating from high school and college are eligible for a commercial graduate pricing of $299. Quark education volume licensing for both K-12 and higher education institutions is also available.
About Quark
Quark Inc. (http://www.quark.com) is a leading provider of publishing software for professional designers, small and mid-sized businesses, and large organizations in more than 160 countries. Two decades ago, our flagship product — QuarkXPress — changed the course of traditional publishing. For more than 25 years, Quark has built on its knowledge and experience in design and publishing to provide software solutions that support collaborative workflows and automated publishing across multiple channels. Today, Quark is revolutionizing publishing again by setting new standards in XML-based publishing across print, the Web, and digital media, as well as by helping owners and employees of small and mid-sized businesses promote their products and services easily, professionally, and affordably. Denver-based Quark Inc. is privately held.
Quark, the Quark logo, and QuarkXPress are trademarks or registered trademarks of Quark, Inc. and its affiliates in the U.S. and/or other countries. All other marks are the property of their respective owners.
Contact: Sarah Rector, Quark Inc., srector(at)quark(dot)com, 303-894-3753
# # #