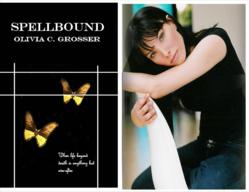 "This book was wonderful, couldn't put it down!! Had me hooked!" "The characters were believable and dynamic. This added to their identifying traits. The premise was believable and it was an engaging read shrouded in suspense & mystery"
(PRWEB) May 27, 2011
Spellbound
By Olivia Grosser
410 pages
Available at: Amazon.com | all good bookstores
Serving as the backdrop for some of Hollywood's most romantic cinematic releases, South Carolina's beautiful wilderness has been home to The Notebook, A Walk to Remember and Cold Mountain.
Hosting star-studded line-ups might be de rigueur, but hosting a family of ghosts?
Get set for an real spine-tingler.
Welcome to Cathedral Falls; the epitome of small-town America, where locals ply their trade off the back of age-old legends and enjoy an infatuation with hauntings that have led them on a hundred-year journey to uncover the truth.
Captured in Olivia Grosser's utterly riveting novel, Spellbound is the tale of Annabelle Patrick; an ordinary girl whose biggest wish is to be invisible - but when something happens to revoke that privilege forever, life as she knows it will never be the same.
Coming into contact with three ghosts, her world is turned upside down when a science experiment turns horribly wrong, opening a portal to the afterlife. Dealing with threats from both this world and the next, she forms bonds that transcend worlds.
From a scorned poltergeist intent on wreaking revenge, to a field trip gone wrong, the line between reality and fantasy often blurs, with Annabelle learning the hard way that life beyond death can be rife with a host of hidden dangers.
An addictive pleasure for those who enjoy a coming-of-age tale with a difference, it is easy to lose yourself in this mesmerizing world. Little wonder then that the book's many fans were hooked from the beginning.
With widespread appeal extending not only to teenage girls, but males and females of all ages for its ability to captivate and enchant, Spellbound succeeds on all levels to produce a wonderfully moving, romantic account of what transpires when worlds collide.
A must-have for your 2011 reading-list.
# # #