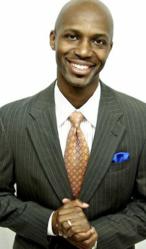 (PRWEB) April 30, 2011
Obese and Overweight Americans are a rising epidemic. It affects nearly 200 million Americans. Mainstream Media glorifies unhealthy eating and drinking choices with advertisements ranging from fast food to beer commercials. Health coach Tony Tate wonders when this trend will finally cease… and so should you.
This unhealthy cycle of poor eating and exercising choices is affecting both children and adults. According to the New England Journal of Medicine, today's children could be the first generation of Americans to have a shorter life span than that of their parents.
Tony Tate believes that every American should be educated about these grim statistics. In an era where consumers have many options, they should be better informed about what effect those choices will have upon their future health.
Although it is no secret that consumers should have a diet consisting of healthy foods and regular exercise, most people simply choose not to do so and are now paying the price with poor health. Simply put, poor choices are creating more obese and overweight Americans.
In an interview with publicist Tatyana Gann, Tate speaks out saying, "Unhealthy eating will continue to skyrocket the expenditures of healthcare and our children's children will have to pay the price."
Because of the rising trend of obese and overweight children and teens, Tate began extensive research to find an affordable way to stop the cycle. He shared this in his interview; "I looked at 23 different solutions until I found one that offered an affordable, scientifically based product that would educate people on the importance of healthy eating and exercise choices."
As a result of his own extensive research on the subject, Tate found the ultimate affordable breakthrough solution by ViSalus Sciences® Body by Vi™ Challenge.
The Body by Vi™ Challenge offers the following affordable benefits to consumers:

Created to address the needs of the new economy
Replace food people would eat regardless, with nutritious, lower priced alternative
Offers everyone a chance to make their own health a priority regardless of income
Access to an online community that provides tips on healthy eating and exercise choices
Savvy consumers will take advantage of this affordable breakthrough solution offered by ViSalus Sciences® Body by Vi™ Challenge. Obese and Overweight people now have the choice to stop the vicious cycle and decrease their chance of having poor health.
To learn more about how the ® Body by Vi™ Challenge works, a free report is available for immediate download at http://tonytate.bodybyvi.com.
For media: Tony Tate is available for interviews. Many resources about Tony Tate's online network marketing training, events and special webinars can be obtained at http://www.tonytate.net or call 904.537.1740.
Publicist Tatyana Gann, 615.354.7625
# # #