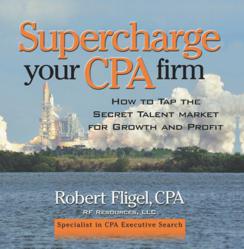 "Several forces have coalesced around the profession to create this perfect storm."
New York, NY (PRWEB) May 05, 2011
A new book, "SUPERCHARGE YOUR CPA FIRM," by Robert Fligel, CPA, President of RF Resources, shows accounting firm leaders how to thrive in these challenging times by tapping a largely unseen market for top talent.
"CPA firms are being pitched and tossed in an atmosphere churned by a perfect storm," says Fligel, an expert in talent management and strategic practice growth and transitions. "Several forces have coalesced around the profession to create this perfect storm."
The gathering forces are ominous:

Economic pressures, such as fee discounting, threatening small firms
Large firms trying to gobble up small and mid-sized firms
Aging baby boomer senior and managing partners with no successors in place
Unhappy younger accountants and CPAs considering abandoning ship
Aging rainmakers in firms of all sizes
Lack of practice development planning and technology/infrastructure pressures
Increasing demand for specialized products and services
There are three ways to try to stay on course in this perfect storm, says Fligel: sell, merge or seek a fresh solution. "CPA practices that have remained independent have done so because they don't want to be part of a larger firm. They like their independence," says Fligel.
Selling or merging is not necessarily the most attractive option for a lot of firms at this time. Some firms are not bringing the same valuation they did a few years ago, and selling usually requires staying on for several years under someone else's leadership for the transition period.
The ideal situation for many firms and accounting firm leaders/rainmakers may be to find a way to solve their problems without merger or acquisition. An alternative solution to the challenges facing these firms today would be to hire the younger partner or to merge in a smaller firm with next generation leadership. This option, however, brings its own set of problems.
Most accounting firms have neither the skill set nor the time to conduct searches for partners or even mid-level staffers. CPAs were not trained to be recruiters, and, in a time when fees and new business opportunities are in a holding pattern because of the economy, CPAs are working harder than ever.
Fligel says the solution for these firms is the CPA specialist headhunter. These specialist headhunters are CPAs with experience in public accounting and with the contacts and record of success to help firms solve these and other problems. In his new book, "Supercharge Your CPA Firm," Fligel demonstrates why the specialist headhunter can help when other recruiters fail. He also outlines many possible approaches to the forces that have created the perfect storm in which accounting firms find themselves today. Most important, he brings reliable and positive solutions.
About RF Resources
RF Resources focuses exclusively on helping CPAs and CPA firms plan and implement successful growth and succession strategies. As advisor, intermediary and consultant, we represent buyers and sellers, growth-minded CPA's and retirement-minded practitioners.
We can help you fill top positions in your firm, or find a new position for you and help you achieve maximum return if you sell or merge your practice. Create a succession and retirement pathway that suits your needs.
For more information, see http://www.rf-resources.com/supercharge
About Robert Fligel, CPA
Robert Fligel is the founder and president of RF Resources LLC, a specialist CPA recruiting firm in New York City. His accounting experience is extensive, including positions with a midsized as well as a "Big Four" CPA firm and a Fortune 500 company. He was also co-founder and Senior Partner of one of New York's largest and most successful executive search firms. After seventeen years, he sold his interest and opened an independent firm that would also offer CPA firm Merger & Acquisition services.
Robert is an active member of the New York State Society of CPAs, the National Conference of CPA Practitioners and other professional organizations. His articles have been published in the CPA Journal, The Trusted Professional and the Practical Accountant.
Robert has placed hundreds of partners and senior professionals in CPA firms, Fortune 500 companies and privately held firms.
###