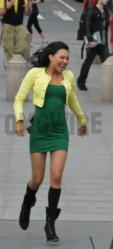 It nearly doubled its traffic in one month!
(PRWEB) May 01, 2011
OMGWire was one of the first media websites to give Glee fans the footage they were looking for. During Glee's recent filming expedition to New York City, OMGWire tracked their trail and photographed the journey.
OMGWire is the most up-to-date, to-the-beat website that sparks the fastest wave of streaming current in the news; dishing out the most newsworthy events in Celebrity and Entertainment. Stationed in the heart of New York City, the staff of OMGWire is committed to successful management of the largest fountain of gossip. From music to movies, TV shows to reality competitions, and weddings to face-lifts; OMGWire knows what is happening and provides its visitors with the same knowledge. So join us, as we are the first to break the American Idol results, Dancing with the Stars shockers, tear jerking performances and exclusive photos on and of Glee and more.
OMGWire has consistently increased in followers through its pages on social networks such as Twitter, Digg, Del.ico.us, and Facebook. Shot off by a spark of brilliant decision-making and cat-like reactions, the Wire sniffs out your fix for news as it happens. Be the first, after Shia Lebeouf and Michael Bay themselves, to catch the trailer of Transformers 3. The OMG in OMGWire serves its purpose of shock, outrage, disappointment and joy in every post. The website is proud to announce that it has recently doubled its previous highest traffic levels.
For those go-getters and followers that like to know who's thinking what and what's happening when, link yourself to OMGWire and get the news of tomorrow, today.
# # #