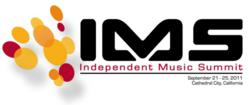 Where Artists, DJs and Music Professionals come together
Cathedral City, California (PRWEB) May 02, 2011
AEU Media Group, LLC announced today the Independent Music Summit which is an annual 5-day event for independent recording artists, DJs, music producers, record labels, distributors, promoters, and other music industry members.
The IMS Schedule includes Symposiums, Electronic Marketplace, Music Panels, DJ Certifications, Workshops, Exhibitions, Seminars, Live Performances and more.
More than just an industry conference, the IMS will host live performances, DJ exhibitions, t-dances, pool parties, outdoor electronic marketplace, guest appearances and more at club, restaurant, resort and other public venues throughout the host city. The events are open to the public for even more community involvement and will occur as part of the IMS schedule.
IMS will happen September 21 - 25th, 2011 in Cathedral City, California. "We are thrilled that the city of Cathedral City stepped up and decided to be the host city for this amazing event," said AEU Media Group President Allen Edwards. "It just seems to be a perfect fit; a desert vacation destination city with an entertainment event."
Most seminars and expos will be happening at the Cathedral City Quality Inn, which is also the official host hotel for the event. Throughout the 5-day summit, there will be live performances, workshops and seminars at local Cathedral City businesses. This way registered attendees can enjoy all that Cathedral City has to offer.
IMS 2011 is intended for music industry professionals to revive their careers, learn marketing and promotion techniques, boost business and to discuss the future of the music industry. During this 5-day summit, DJs can get certified through DJCAA (Disc Jockey Certification Association of America). There will also be seminars and workshops for local youths looking to get into the music business.
About AEU Media Group, LLC:
AEU Media Group, LLC has been in the music and entertainment business for nearly 20 years. This award-winning company owns PNN Radio and Proud Television and has worked with several cities and companies to promote, sponsor and create events, including White Party in Palm Springs, Winter Party in Miami, The Palm Springs Bureau of Tourism (Directors Choice Award, Spring Break Campaign, Gay & Lesbian Visitors Guide & Map), Billboard®, Bravo TV, The Travel Channel, CNN and More.
About Cathedral City, California:
Incorporated in 1981, Cathedral City is dedicated to providing a quality lifestyle and business climate for those here now and those in the future. The Coachella Valley, with a population of 343,377, is the very essence of Southern California lifestyle - a destination of friendly neighborhoods, lush country clubs, diverse shopping and unlimited business potential.
About Cathedral City Quality Inn:
The Quality Inn & Suites Hotel in the Palm Springs resort community of Cathedral City is a 97 room oasis in the desert. Located within minutes to all of the popular attractions this hotel features many complimentary amenities including deluxe continental breakfast, wireless internet, local calls, daily weekday newspaper, 24 hour lobby coffee/tea service, an outdoor pool/spa area, spacious superior guest rooms & suites….and more.
"The Quality Inn & Suites hotel Cathedral City is pleased to be the host hotel for the Independent Music Summit and is committed to hosting a successful event for all participants."
# # #