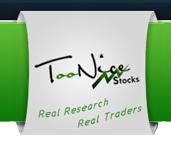 However with Phase II interim data releasing in the summer, many smallcap biotech enthusiast will keep a close eye on Advaxis. From the current bullish technicals, seems like their notice has already begun.
New York, NY (PRWEB) May 02, 2011
Advaxis Incorporated, a development stage biotechnology company, is poised for a major advancement if their Phase II cervical cancer vaccine data reflects the same optimistic survival data from prior Phase I data. Advaxis initiated two Phase II trials, one aboard and another in the United States. The India trial began December 2010, accordingly the interim data should be released by the summer of 2011. Their cancer vaccine uses live attenuated (less virulent version) Listeria monocytogenes bacteria to stimulate a cell mediated response against tumors. This unique delivery system circumvents the major hurdles of immunotherapy.
TooNiceStocks research into Listeria demonstrated its effectiveness as a cancer immunotherapy. Listeria was bioengineered, specifically a protein called listeriolysin O (LLO) to be less virulent as well as fusing an anti-tumor antigen. This bioengineered Listeria (Lm-LLO) stimulates multiple immune pathways simultaneously, thereby attacking the tumor in numerous ways. Besides producing specific anti-tumor cells, Lm-LLO can alter the tumor microenvironment to prevent the tumor from creating immunosuppressive agents. Another important factor Lm-LLO contributes to fighting cancer is it initiates epitope spreading, vaccines directed against one antigen result in immune activation against other antigens. Epitope spreading broadens the therapeutic response. Other benefit includes changing the tumors' vasculature to direct more activated immune cells towards the tumor.
Digging Deeper into the products and its future potential.
TooNiceStocks research digs into Advaxis cervical cancer Phase I data's implications. The Phase I, dosed with ADXS11-001, was conducted on women with cervix cancer who had failed prior therapy. Median survival once disease progresses is six months or less. The one-year historical survival is approximately 5%. Advaxis released data on this trial noting patients' median survival was 347 days and one-year survival was 53%. Although Phase I was designed to test for safety concerns, which was minimal, and not for efficacy, nonetheless, its implication is very encouraging. Their Phase two design will include dosing of ADXS11-001 alone and ADXS11-001 combined with platinum based chemotherapy. Since most cancer therapeutic works better synergistically with traditional therapies, TooNiceStocks feels interim data if positive, will not be surprising.
TooNiceStocks found that although late stage studies primary focus is on cervical cancer, the ability to tailor Listeria and fuse the LLO to specific anti-cancer antigen opens a wide arena for other solid tumours. Other cancer Advaxis is focused on includes head and neck cancer, prostate cancer and breast cancer. Commencement of Phase I studies on head and neck cancer will be conducted early 2011. Since the fundamental mechanism for Listeria has not changed, except using a different antigen. Phase I studies on head and neck cancer will be similar to previous Phase I studies on cervical cancer. Its safety and tolerance should not be a concern. Furthermore, early signs of efficacy will not be surprising.
TooNiceStocks in-house biotech analyst stated, "An effective cancer immunotherapy performs many tasks; 1. Initiate a strong immune response against cancer. 2. Alter the tumor microenvironment to prevent immunosuppression. 3. Target multiple cancer antigens. Listeria satisfies these criteria making it a potent cancer therapeutic, not even the leading FDA approved treatment seems to do all of these." Since the majority of their pipeline is based on this delivery platform, positive data will definitely have investors take notice even though Advaxis's pipeline is still in early stages of development." The potential for Advaxis to tap into a multi-billion dollar market all depends on their final top line results and continued success. However with Phase II interim data releasing in the summer, many smallcap biotech enthusiast will keep a close eye on Advaxis. From the current bullish technicals, seems like their notice has already begun. Remember this is the stock market and anything can happen.
Thanks,
http://www.TooNiceStocks.com
"Finding Value in the Undervalued"
About TooNiceStocks.com - Sign up now for free weekly technical and research reports. We work hard in researching promising companies in all exchanges. Please add or follow us for daily chatter. Join our premier membership now. Real Research for Real Investors.
TooNiceStocks.com in no way has been compensated for advertising, marketing or profiling Advaxis Incorporated, rather we have initiated our own independent research. The data stated in our research article is derived from publicly disseminated information. None of the profiles issued by TooNiceStocks.com, constitutes a recommendation for any investor to purchase or sell any particular security or that any security is suitable for any investor as these are our opinions. Any investor should determine whether a particular security is suitable based on the investor's objectives, other securities holdings, financial situation needs, and tax status. Examples presented on TooNiceStock.com website are for educational purposes only. Such set-ups are not solicitations of any order to buy or sell. Accordingly, you should not rely solely on the Information in making any investment. Rather, you should use the Information only as a starting point for doing additional independent research in order to allow you to form your own opinion regarding investments. Please note well that TooNiceStocks.com employees are not Registered as an Investment Advisor in any jurisdiction whatsoever. For full disclaimer, please visit http://www.TooNiceStocks.com.
# # #