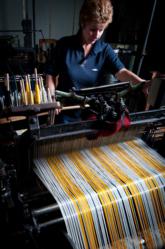 This tartan weaver wasn't just another small business going to the wall. If this mill had gone, 90% of all tartans would never have been woven again. It would have been the end of centuries of tradition.
Edinburgh, Scotland, UK (PRWEB UK) 2 May 2011
D.C. Dalgliesh Ltd, of Selkirk, Scotland, is the only weaver in the world still producing all its tartans to authentic traditional standards. But the mill has struggled to compete in the face of cheap imports, with 17 highly-skilled jobs at risk.
Scotweb directors Dr Nick Fiddes and Dr Adele Telford were long-term customers of the mill, as the world's largest online retailers of tartan goods and products (see http://www.scotweb.co.uk ). A takeover seemed the perfect fit.
Dr Fiddes said, "We are delighted that we've been able to step up and save this unique operation. This tartan weaver wasn't just another small business going to the wall. If this mill had gone, 90% of all tartans would never have been woven again. Its products are a vital and wonderful part of Scotland's heritage, and its loss would have meant the end of centuries of tradition."
"No other weaver makes tartans of the same quality. And certainly none can weave you just enough for a single garment in your own family tartan, which is what most tartan enthusiasts want. A really important part of Scotland's identity would have gone forever.
With the unrivalled quality of the mill's products, Drs Fiddes & Telford are committed to putting D.C. Dalgliesh back on the map as a beacon of excellence for Scottish tartan weaving, and intend to take the business from strength-to-strength.
A new D.C. Dalgliesh website will be launched today along with a video, displaying the history, skills and production of D.C. Dalgliesh tartans. See http://www.dcdalgliesh.co.uk
Quotes:
Dr Fiddes says: "This investment makes great business sense to us, since D.C. Dalgliesh is such a good fit alongside Scotweb, our other business. Scotweb is unique in offering the world's largest range of tartans and authentic traditional tartan products to the public. And D.C. Dalgliesh is unique in producing the unrivalled range and quality of fabrics that Scotweb sells. So each will benefit from the skills and expertise of the other. But we won't be merging the operations. The mill will continue to operate independently, and provide the same outstanding quality of product and service to all its customers worldwide."
"We've been able to inject finance to keep the mill going, and we've a plan to return it to health. But we really need everyone's support to ensure the mill survives for future generations. So we're calling on the rest of this industry, and the community as a whole, to rally round and spread the word about this remarkable little gem. There's a page on our new D.C. Dalgliesh web site which explains how anyone can help."
Why D.C. Dalgliesh Tartans are unique:
D.C. Dalgliesh…

weave any tartan in a short length (from only four yards). Many tartan enthusiasts want their own family tartan rather than just the best-selling popular designs made by bigger mills. So a single skirt or kilt can be woven in any tartan.
weave only on traditional shuttle looms giving fabrics a traditional natural or 'kilting' edge. This gives the 'cut cloth' bottom that an authentic kilt should always have, impossible to achieve on modern high-speed looms.
produce more densely-woven fabrics than the larger mills giving a more lustrous finish, crisper pleating and better durability than other kilts.
weave in heavier yarns than is normal elsewhere, producing a premium quality. The mill uses 11oz wool for lightweight tartans where other mills typically use 9oz or 10oz, and 15oz for kilting tartans where the norm is 13oz.
weave tartans in not just pure new wool, but also pure spun silk. It is the only weaving mill with the skills to weave even a single pure silk sash in anyone's family tartan, making this one of the most exclusive and luxurious products on earth.
Press & Photo Call:
Dr Nick Fiddes will be available for interview at the mill from 9am-12noon on Tuesday 3rd May: D.C. Dalgliesh Ltd, Dunsdale Mill, Selkirk, TD7 5EB, Scotland, UK
For other arrangements contact Dr Fiddes directly.
# # #